BMB XC Wasing 12th June
Everything went my way for this race, apart from the result.
It rained and course got seriously cut up by 3pm when the Vets class started. This meant the race was longer and draggier than the usual. I had made the right choice on tyres the day before with old skool mud ones. I was looking forward to being positioned further forward on the grid than in round 2 and there was a long lead out into the singletrack.
The start was ok. I gained a few places but there was some dabbing as we hit the first hill where the leaders got away. The course was very mashed up compared the practice lap I had done 3 hours earlier. It was fun though, sliding around trying to keep upright. There was a couple of heart in mouth bomb holes on the lap which I rode every lap, which was nice.
I made up a few places on laps 2-3 getting up to about 12th, but I seemed to losing timing on the second half of the course. The riders around me seemed very powerful and determined. Towards the end of the penultimate lap I was caught by three riders from behind, not good. I couldn't seem to eek out enough power to get away again at the beginning of the final lap. My brakes had been grinding particularly badly, but the rest of the bikes was working very well.
It was close with the riders around but I came off worst in a group of 4 or 5 and rolled in 17th. I wasn't that happy with result. It was just one of days when the top Vets were out in force and I wasn't on my game. Enjoyed the race though, but must try harder.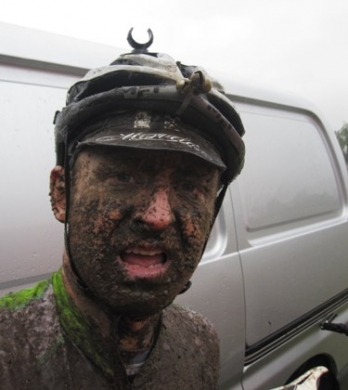 I cramped in the van while getting dressed, so under estimated my hydration needs having only a mouthful of drink in the race. The next day when I finally got around to cleaning the bike I found brake pistons on front and back seized, so that would have reduced propulsion somewhat. Reminded me of what it takes to deal with mud. A timely lesson with bad weather forecasted for Mountain Mayhem 24 hr this weekend. Frig!
Thanks to my key sponsors
KCNC