---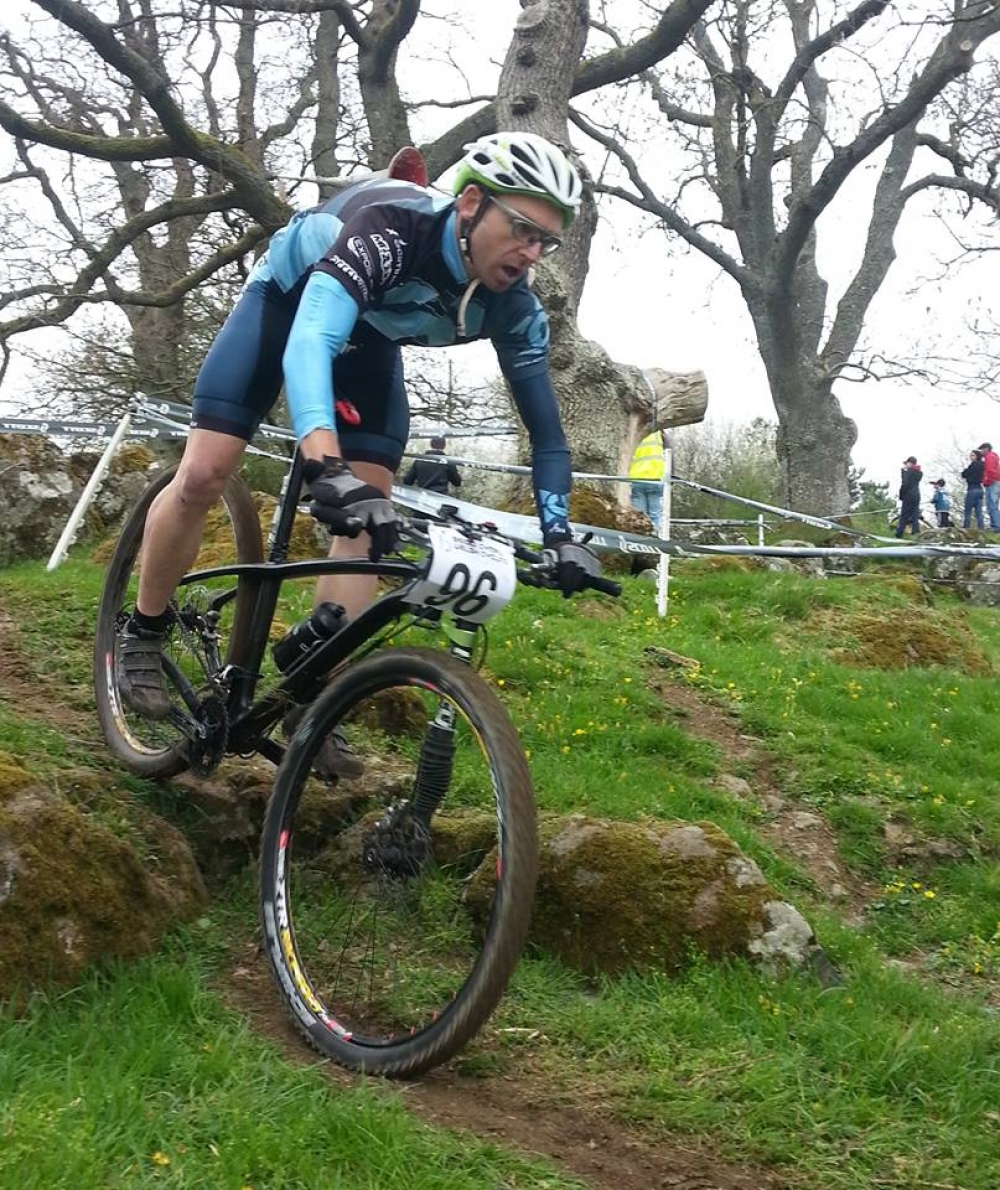 From Codham to Margam - the first 1/2 of the UK season.
Share on Facebook
Share on Twitter
Published: 26th June, 2014
2014 UK racing - first half of the season
The season is chugging by, I had some plane time recently so finally got onto my belated blogging. For the first part of the UK season I focused a bit on Vets cross country racing with a few marathons thrown in.
First up was it was over to the flat lands of Essex
BMB XC Round 1 - Codham, Essex - April
The first National XC of the year. I had good legs for this one, I even led out for the first half the lap. By the BMX section though I had been passed by all the usual top Veterans and was lying in 6th or 7th. I attacked the small hills to try to get back to Paul Hopkins and Sam Humphrey and distance myself from Dan Howe and an encroaching Al Fairburn. On the penultimate lap I got back onto Paul & Sam but fluffed the only significant drop on the course, crashed and the gap opened again. I held it together and finished in 6th quite happy with my form as there was not much time difference between the top few riders. Ian Taylor won, with Marc Chamberlain in 2nd, Crispin Doyle was third.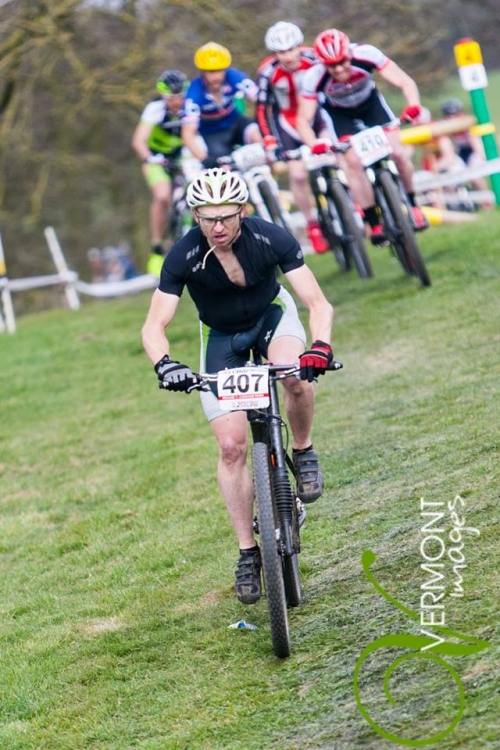 Getting carried away (image thanks to Vermont Images)
Midlands XC Round 1 - Birchal - April
After a strong performance at Cobham I thought I would do well at the first round of the Midlands as I had had a couple of good results in previous years. I led out up the first long grassy climb, but struggled through the middle sections in a rather muddy rain saturated course. It took me a couple of laps to get going and realise it was quicker to run the muddy sections rather ride them. By the mid way point I had over taken Nick Popham to climb into 4th and tried to get back to Chris Rathbone in 3rd. This endeavour failed. A rare appearance from Stephen Pomphret saw him take the win with Adi Lawrence in 2nd. Mental note to do some muddy cross races.
Image courtesy of Cooksons Cycles
Welsh weekend - Builth Wells - April
Three races in 2 days. Bonus! Kind of.
Welsh XC
On Saturday there was a round of Welsh cross country. It was held in a tight loop around the show ground with steep little kickers of climbs. The Vets & Masters were set off together. Very quickly XCRacer.com teammate Phil Morris went into first place in the Masters, with me following. I was in two minds whether to try to stick with him. My body decided against it as it meant venturing quite far into the pain cave. Anyway we both won our respective categories, which meant useful National ranking points.
Image courtesy of Donna Morris
Exposure Lights Big Night Out race

Next up was a night mini marathon. It was a concussively long steep start which saw Nick Craig & Neil Crampton quickly ascend away. I tried to follow Phil Morris in 3rd, but he was digging deep and was too strong. I settled into a steady rhythm but was descending rather cautiously. There was a lot of disconcerting ditches to plough through and I wasn't sure whether I would be up to elbows on sheep poo at some point. Matt Page passed me early on one of the descents. These positions were held till the end of the race. Mental note to do some more night time descending, and have a rear light for this event as there was a lot of road towards the end. A refreshing beer was the welcome recovery drink. Nick Craig was the first home.

Scott Marathon 80km

The main event of the weekend started with another very long steep climb after the neutral section. Needless to say my legs were feeling somewhat stiff from the races the day before. I held it together on the first frenetic climb and started engaging in numerous rolling hills and false summits. A headwind was not our friend. For most of the second half of the race Matt Page & Roy Davies rode together to the finish. A strong Lee Williams was the first home. I think I was about 7th or 8th.

A jolly good weekend workout was had.

Margam Madness 4 hour - Wales - April 27th

I opted for the 4 hour race on this one rather than a more brutal 8 hour beasting. This was a hard course on bike and body, quite fun riding though if you could handle the climbs.

Phil Morris and George Budd (who was doing the 8 hour) pushed hard on the first lap I settled into third which I held till the end of the race which meant 2nd overall & 1st Vets in the 4 hour.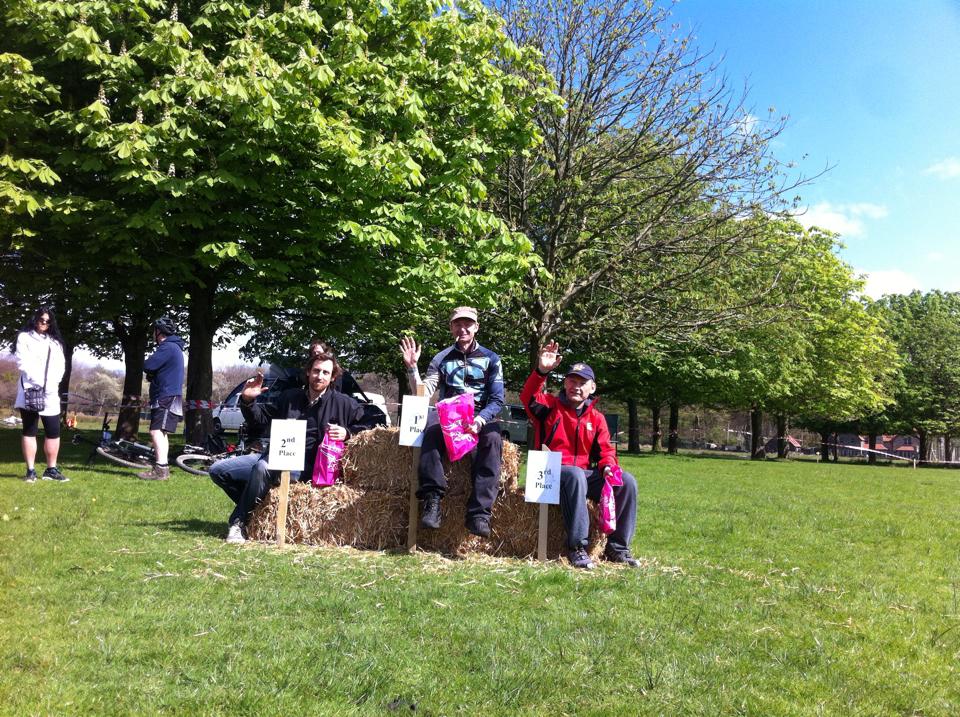 Old rickety leg category
There was loads of great new stuff I hadn't ridden at Margam before and some of the old school climbs to the highest points. I hope they were use some more of it for the National xc in June.
BMB XC Round 2 - Redruth, Cornwall - May 4th
I felt I had good form going into this one, it was just one week before the National Marathon champs so I was trying to peak. Last year I had come from 17th on the grid to get to 4th, the course suited me with lots of 1 minute climbs. It seemed to be rockier than the previous year, more erosion, so was a little worried about having quite light tyres on, particularly as there was a lot of riders coming back into the car park throughout race 2 with punctures.
The race started badly for me. I had a big summersault crash in the first little wooded section. When I regained my composure I had lost quite a few places but worked hard to get up to about 6th after the first lap, riding with Dan Howe & Lee Hayward. The course was already taking casualties, Crispin Doyle looked like he had a puncture as did Paul Hopkins. At the beginning of lap 2 my rear tyre lost a lot of pressure on the first descent … I had to take the slow B line to avoid popping the tyre of the rim … then I put foam into the wheel … it gave me enough pressure to carry on but was very skirmy (about 10PSI). Ian Taylor, who had been in the lead was also mending a puncture at the same point.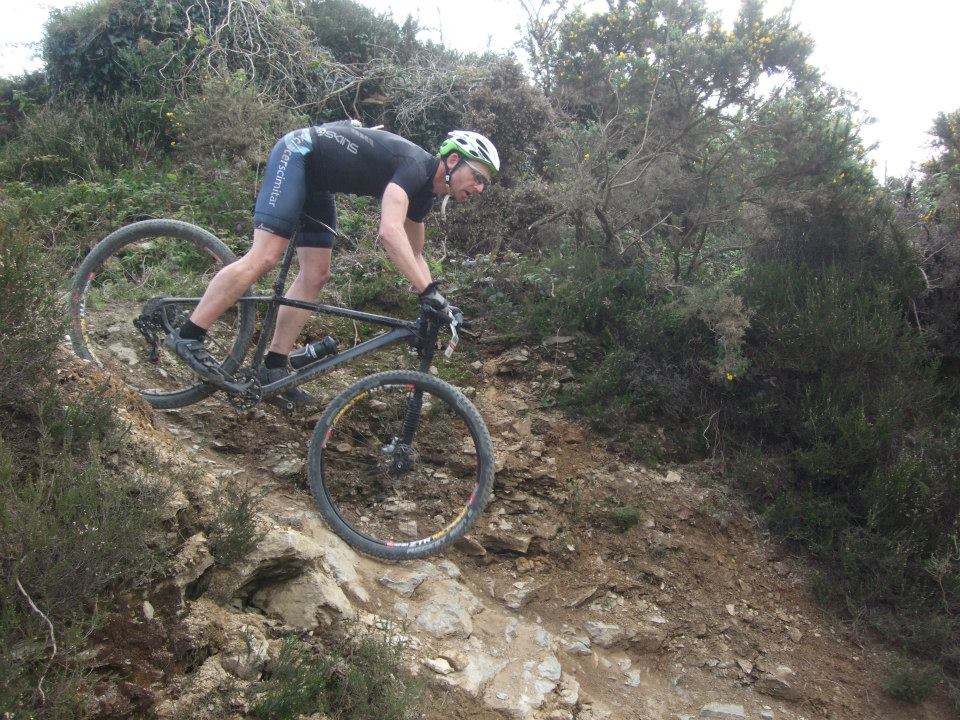 Image courtesy of the Atkinsons
On lap 3 & 4 I really started to motor, with 3 of the top riders having problems I got past Dan and Lee again and into a clear 2nd (my highest position at a XC National) with Sam Humphrey ahead. I managed to grab some CO2 in the pits and really should have put some pressure in my rear but heard of the tannoy that Ian Taylor was back and now in 3rd and going fast. I fancied my chances at staying away so ploughed on without adding air to my tyre. Unfortunately this was a bad decision. Like many that weekend I came a cropper in the "stream of death" … not quite sure what was hidden amongst the rocks but it split my tyre properly. Game over. Balls.
National Marathon Champs - Selkirk - May 10th
This was my most important race so far this year as I'm better at longer distance than XC and stand more of a chance at doing well. I had won the Vets category the previous year when Nick Craig had a load of punctures.
I was up for the race which is essentially for the Vet's race for who is the "fastest Vet apart from Nick Craig" category.
The weather was a bit rubbish. It was cold and wet at the start, typical Scottish summer weather then.
The first climb at Selkirk is very long and quite hard. The Elite racers set a fierce pace which reverberated down the field stringing everyone out. Nick Craig was up front in the top 5. I was more concerned with the other Vets. The only one ahead was Richard Rothwell when we crested the top.
Half was down the rocky descent my rear tyre lost all pressure. Doubly annoying as I had bought super tough tyres after the problems at Redruth. I pulled out my spare tube but it wouldn't inflate. It had a hole in it. At this point most of the championship riders had descended past me and then the faster of the general marathon wave were coming through including my girlfriend, Iwona. She gave me her tube and CO2. This tube incredibly had a hole in it as well. Another mental note needed, to check my spare tubes and not store them in a box rattling around with tools & cassettes. I was left to limp back along the course to my van with an adhesive patch just about holding things together. Turned out I had a kink in the rim which had let the pressure out in the first place (maybe it was the same issue at Redruth).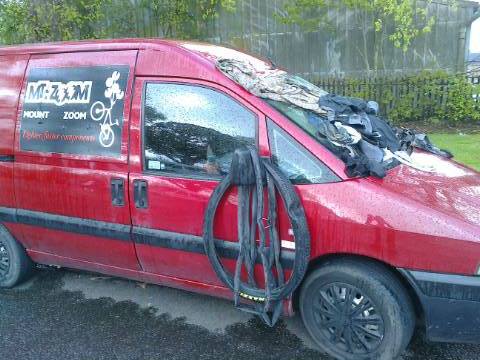 Dodgy tubes & rims, story of my Selkirk (Image Rich Rothwell)
A short race and not sweet.
Dan Fleeman grabbed the British Marathon.Well done also to Nick Craig who won the Vets and was 3rd overall, very much in contention for the overall win but free hub body problems lost him time. There was quite a 4 way ding dong battle in the Vets for 2nd place. Richard Rothwell & Mark Spratt came through to take 2nd & 3rd. Sally Bigham retained her title in the ladies.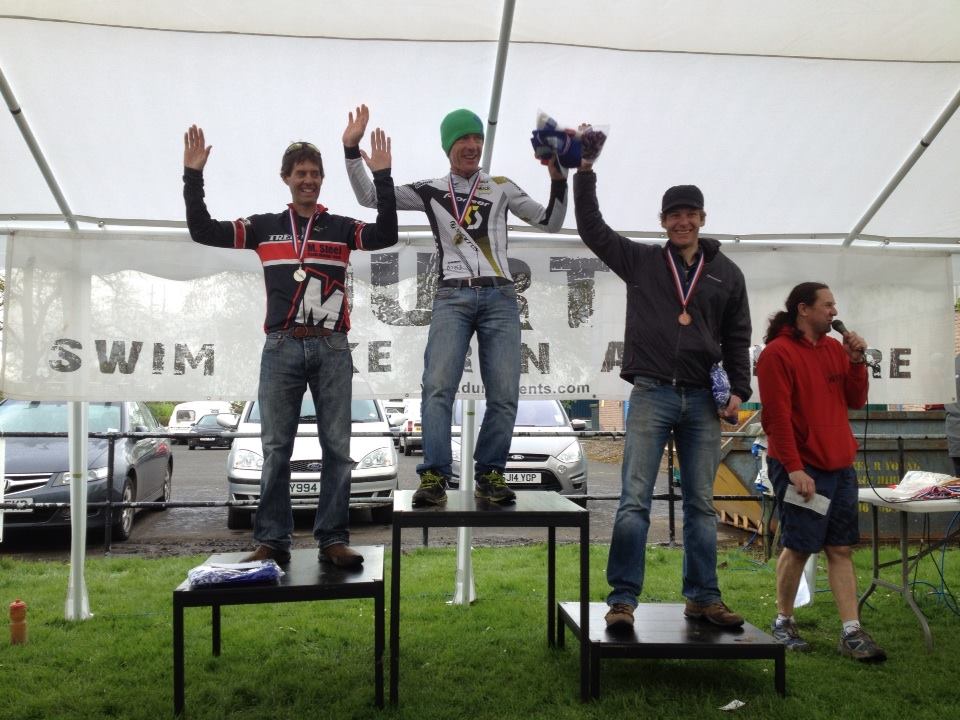 Vets podium Eastern Regional XC Champs - Codham, Essex - May 18th
I had to make amends for the previous two DNFs. The next race up was the Eastern Regional Champs, back at Codham.
I quite enjoyed the little kicker climbs at the round one of the Nationals so hoped to do well and get double National ranking points. The course was changed a bit to have even less climbing though.
On lap 1 I led out with Dan Howe & Nick Ainsworth trying to weave our way through riders from other Categories. On lap 2 space opened & I pushed a bit harder. There was only really a couple of places where I could grab a few sections, but dislocated Dan & Nick gradually opening a gap of about 40 seconds to win. Yay.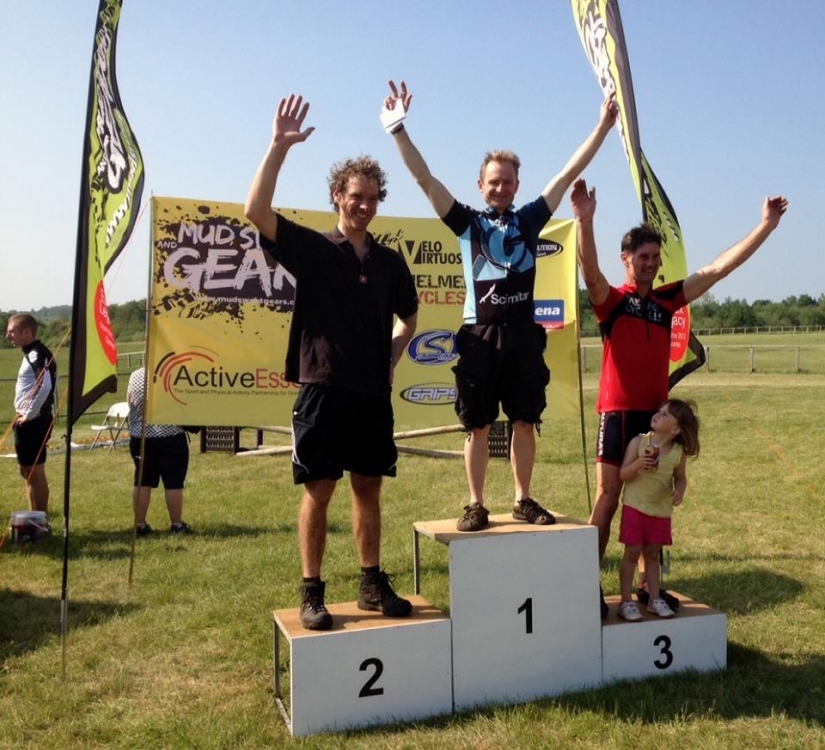 Bristol Bikefest 6 hour - June 3rd
Between the Regional champs and Bristol Bikefest I did some different races just to try to keep things "freshy fresh". This included some local summer cross races & 10 mile TTs. These low key races were actually enjoyable and I even bought a pointy hat cheap off Ebay, a TT one not a KKK one.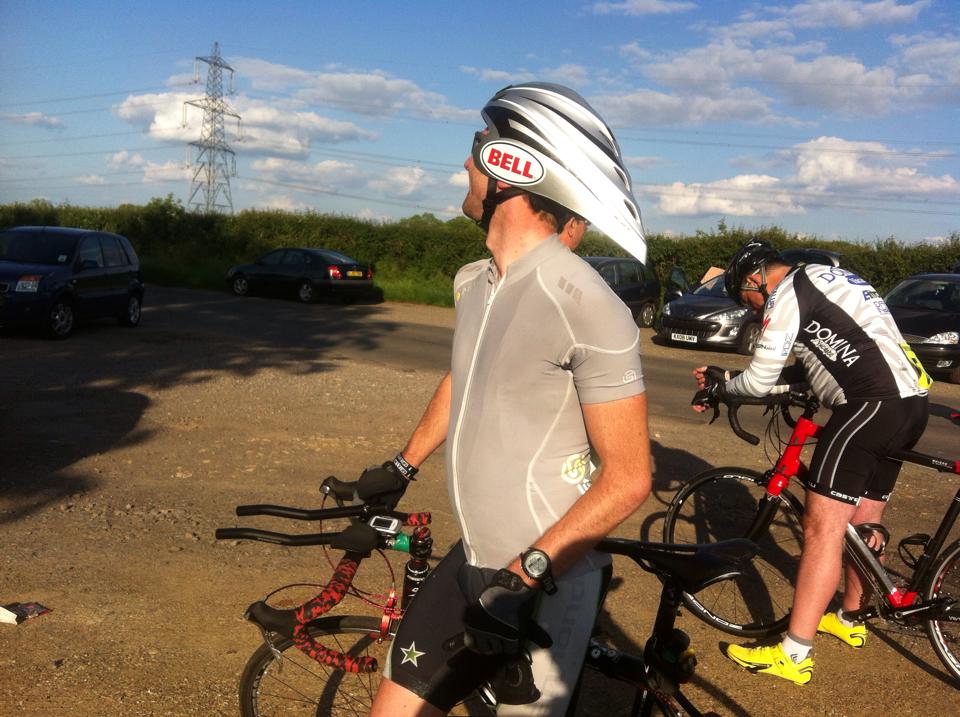 What the feek?

At Bristol I plumbed for the 6 hour solo race, as 12 hour solo around Ashton Court beats you up fair a bit. As it happens I crashed hard anyway on about lap 3 or 4. I had just moved into the overall lead and way enjoying the course a bit too much and some greasy cobbles caught me out at high speed and I slammed into the ground on the left side of my body. Shaken and stirred I carried on, but lost my mojo a bit. A guy in the RAF kit caught me and eased away to win the overall. I was second and won the Vets only just ahead to a fast finishing Scott Cornish.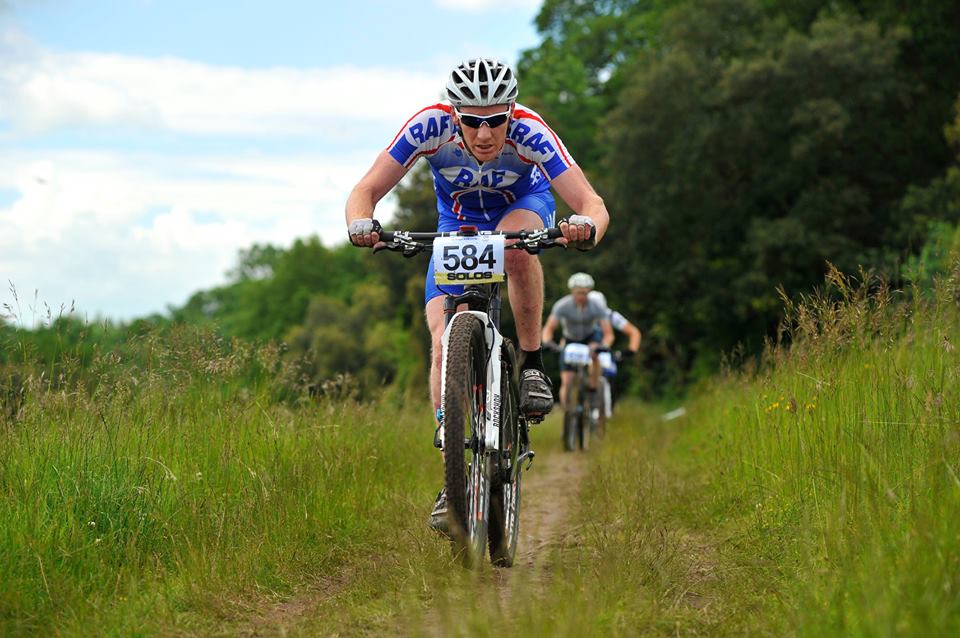 Image courtesy of Rob Barker BMB XC Round 3 - Margam Park - June 10th
My sore left hip had been troubling me all week after Bristol, once the aches from other parts of the body subsided. I really didn't need any bike of body issues occurring as a result of this race and I was getting on a plane on the Monday after the race. I pre rode the course on the Saturday a few times and practiced the A-line double drop technical wooded section. On my last practice I cocked it up and really jolted my hip. On my drive home I wasn't sure whether I would race, but after a Saturday night alone with a bag of frozen peas on my groin + some paracetamols I felt ok in the morning.
In the race I settled in behind Mark Spratt and Lee Hayward in 8th on the first lap. Last year I had really attacked the course in hot weather and had a serious crash & cramptastic implosion, so knew pacing was important
Last year! ... let's not do that again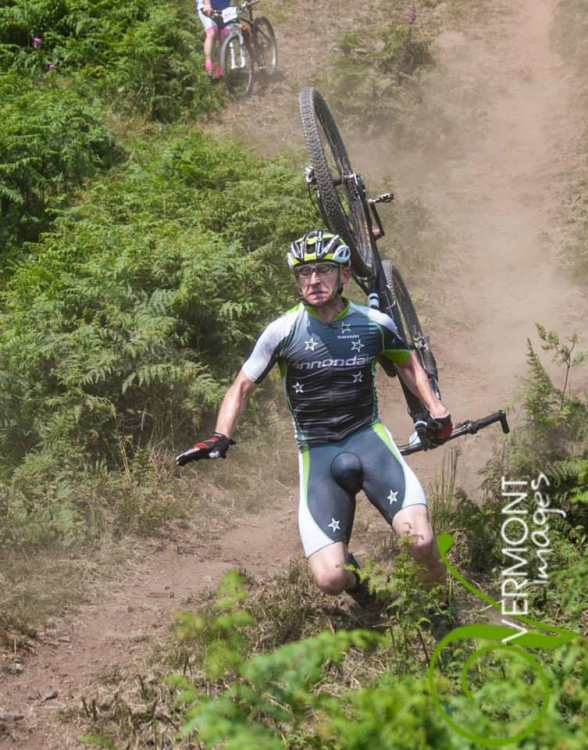 Last year @ Margam (photo courtesy of Vermont Images)
After lap 1 I started to push harder and past Lee & Mark. I got a few glimpse of Marc Chamberlain in 5th ahead but brief ones, my main issue was coming from behind Gary McCrae was pretty close so I had to dig in.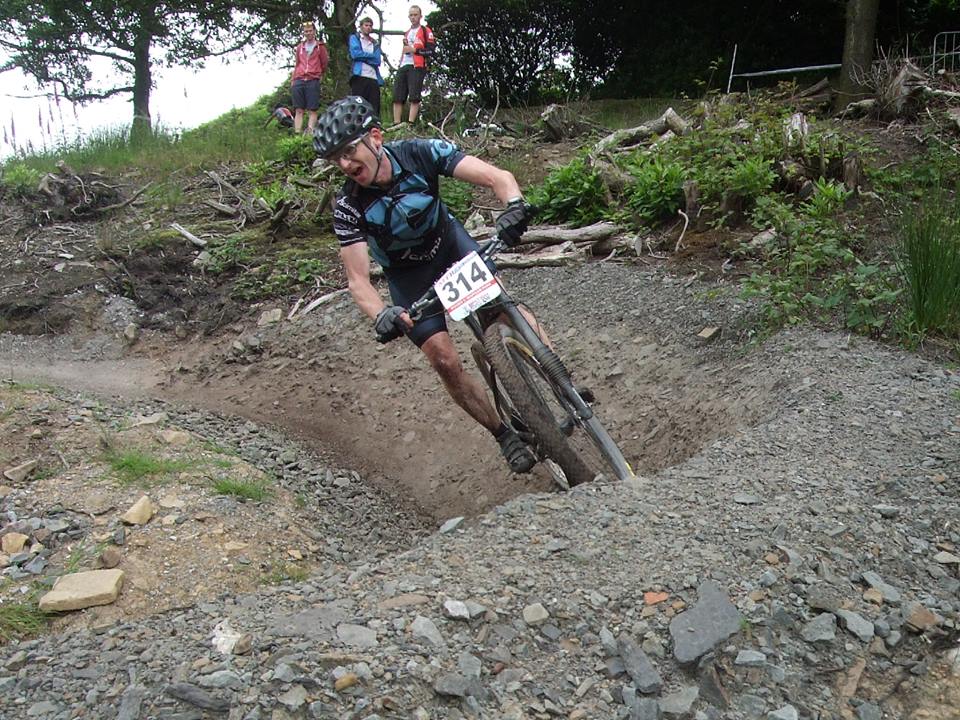 weeeeeeeeeeeeeeeeeeeeeeeeeeeeeeeeeeeeeeeeeeeeeeeeeeeeeeeeeeeeeeeeeeeeeeeeeeeeeeeeeeeeeeee!!!!!!!!!!!!!!!!!!!!!!!!!!!!
photo courtesy of the Atkinsons
On the final (6th) lap I had to do my traditional BMB race crash. I did it and now Adi was right on my wheel. I used the last climb to open a bit of gap and secure 6th. Ian Taylor won the race with Lewis King in second.
I was very happy I survived and could get on the plane to Poland (for the Beskidy Trophy stage race) the next day.
Looking forward ....
That's kind of the the first part of the season done. The next part is pretty interesting, some European Stage races/marathon & the National XC champs at Hopton. The Beskidy trophy (a 4 day stage race in Southern Poland... Blog to be done soonish) and if I get organised enough there is a Austrian trip on the cards (a 3 day stage race) followed by the UEC European Master Marathon champs in Salzkammergut, Austria. All of these have an insane amount of climbing, hopefully this will set me up up for climby Hopton rather than wear me down.
Thanks to
MT ZOOM
Scimitiar
Accelerade
Exposure Lights
Blogger Info:
---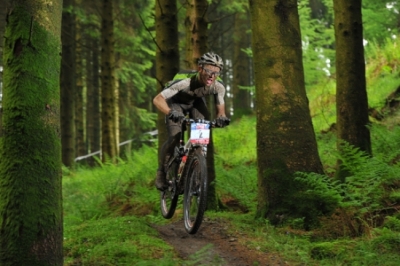 24 solo racer, world traveller and now the man behind the xcracer shop
Read More By Anthony
---
Disclaimer:
This blog post was written by a third party and their views do not necessarily reflect the views of XCRacer.com