---
Winter Racing & 2011 Review
Share on Facebook
Share on Twitter
Published: 10th February, 2012
Winter Racing & 2011 Review
To be fair this winter has been soft, up until the last couple of weeks which is now "keeping it real". The worst racing weather was sprung upon me in the late Autumn.
Forest of Dean 4hr Enduro
It rained a lot. A wonderful course was turned even more wonderful, super slippy fun. My inner chainring was now struggling from a solid thrashing in Ireland the week before. I oscillated backwards and forward within the lead group, chainsuck hell. After lap two it was whittled down to Niall Frost (XCRacer) and myself. I started to fancy my chances as Niall is more XC than Endurance. At that moment I ripped the mech off and snapped the hanger.
The long walk back pissed off face. It was muddy.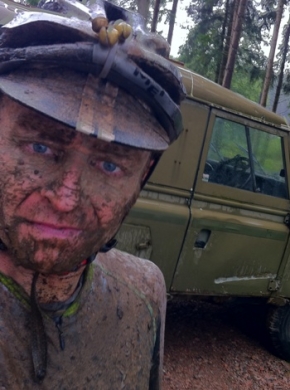 Dusk Till Dawn 12 hour
We pulled together a strong team to see if we can dethrone the Kings of Thetford; The Fenboy Slackers (aka The Ashby family and Nigel Scott, aka The Forest Dwellers).
Despite being one of the driest places in thE UK Dusk Till Dawn is starting to develop a bad luck weather reputation. 3 of the last 4 years has seen heavy rain. 2011 was shitty, but not as bad as 2010 and 2008 which was like something made up in the bible.
Steve James (the elder), Craig Bowles & Ryan Henry and myself had an encouraging start and kept it very tight until the final 2 laps when the Forest Dwellers met dawn and saw their favourite lines.
Top ride from the Slackers. What does it take to beat these guys around Thetford?
Mtb Tour of Langkawi
I then escaped. Race report here.
A picture of a palmtree: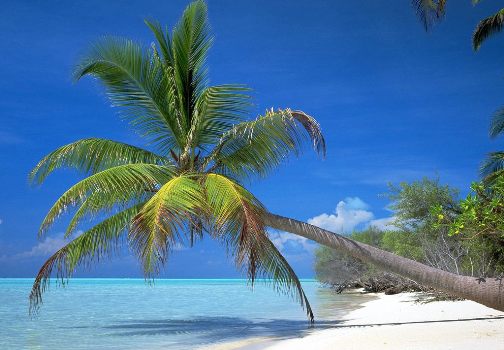 Back in Blighty
My objective for the winter to was to get a bit of random cross racing in on the mtb and use the 4 hour races to do some solid speed endurance work. The cross racing was a bit flustrating as I just randomly picked regional races I was near at the weekend and found it difficult with so many riders starting together.
Forget garlic bread the foot long bar is the future: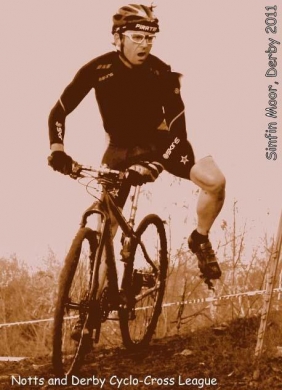 I think it's time some of the Categories are split up, starting the seniors, vets, women and junior together is good for the organisers but not the riders. Moan over.
Brass Monkey 2011/2012 - 4 hour races
Round 1: Some wood in Surrey near an army camp
Not a great day. My legs were fried from being on my feet working the previous day. I barely kept the cramps at bay in the warm weather with the big wheels. My Cannondale teammate Tim Dunford stormed away from the field, I won the Vets though.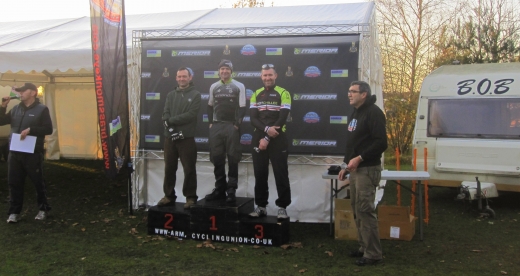 Round 2: Some wood in Surrey, might have been near an army camp
A better day. Tim stormed away again. I had all sorts of minor comedy incidents. It was difficult passing the back markers as there a lot of tight sections. Managed to come 2nd overall and won the Vets.
Passing some backmarkers can be challenging: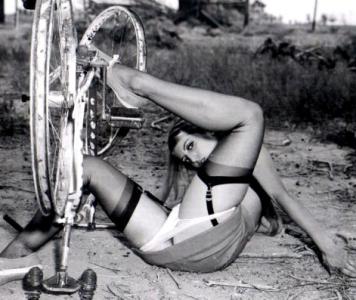 Round 3: Some wood in Surrey near an army camp, with some hills.
Tim Dunford wasn't there. Ben Thomas (Mountain Tracks) was, and rode away from everyone to victory. I won the Vets and came 3rd overall , a minute down on smooth pedalling Mike Jackson (CC Luton).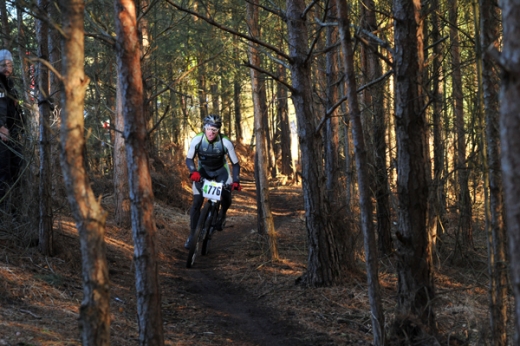 Photo: Cheers Joolz
All top courses.
Thetford Winter Series 2011/2012 - 4 hour races
Round 1: A flat wood in Suffolk
Paul Ashby (Fat Birds) disappeared into the distance. Ian Mockett (Bike Art) held onto Paul's wheel for a few laps before totally blowing up. Richard Jones (XC Racer), Nigel Scott and myself worked together for a while before Nige dropped off. Ultimately Rich was stronger on the last lap. I rolled in 2nd Vet, 3rd overall. 7 mins down on Paul.
Poor man's slalom skiing, love it!
Round 2: A flat wood in Suffolk
Paul Ashby (Fat Birds) disappeared into the distance. Mike Jackson (CC Luton)and I worked together well dropping Ian Mockett (Bike Art) who had forced the early pace. We rolled in together, joint 2nd, 7 mins down on Paul.
Round 3: A flat wood in Suffolk
Paul Ashby (Fat Birds) disappeared into the distance. Ian Mockett held Paul's wheel before the first of a multitude of puncture problems derailed his day's endeavours. There was a train behind. I was pushing at the front but getting nowhere. I fumbled with my steamed up glasses. Mike Jackson (CC Luton)made a burst for it and got on Ashby's wheel for a few laps (well done). Behind Richard Jones (XCRacer), Nigel Scott and I worked with Ian Mockett who had recovered from the first puncture. I clipped a log with my pedal while negotiating a back marker and lost the group. I chased and finally caught Nigel with an hour to go. Rich Jones had caught Mike Jackson who had dropped off Paul's wheel.
By this stage I was suffering with quite a lot of Thetford dirt clouding my vision and having to use my foot down braking technique ( I had lost all pressure in my brakes). At a minute past 2.30pm I sprinted over the line with Nige. Nige carried on. At first I thought he was spinning his legs, then I realised we had made the 4 hour cut off as the race had started a few minutes late. I didn't fancy another lap and Nige wasn't in the Vets category. Then 3 Vets came through, only Micheal Powell stopped. Hey ho. 4th Vet for me.
Thetford is super good training. You never stopped pedalling and small mistakes are penalised.
Hit the North 3 Phillips Park, North Manchester
Winter firmly arrived. The ground was rock hard and rutted. 300 brave souls turned up on a motley collection of bikes. It's a 2 hour race which is part cyclo cross part mountain bike. I like a race which calls for some bike thinking and tinkering. I had a mutant rigid 29er which was spot on. I really wouldn't want to ride that icy course on a cross bike.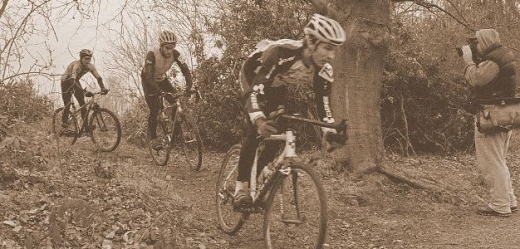 I was doing alright after a tentative start lying in about 6th and 2nd Vet position, but with half an hour to go I had a chainring implosion. On subsequent inspection I had snapped the middle ring and lost 2 ½ chainring bolts. Not sure what came first, my Cancellara like power or my shody bike maintenance? It serves me right about being smug about getting through all the 4 hour winter Enduros intact.
Well done to Ian Taylor (Craven Energy) 1st, and Adi Lawrence (BG Global) - 1st Vet and 2nd overall.
And then it snowed. And then it took along time to get home.
Ace race … I'll be back.
2011 Review:
I raced a lot in 2011 and had a strong year.
Some notable Race Results
Old Pueblo 24hr solo (Arizona) - 1st
UK 24hr solo champs - 2nd
Erlestoke 12hr - 1st
Mountain Mayhem 24hr solo - 1st
Midlands XC Hanchurch - 1st Vet
National XC Champs - 5th Vet
Brighton Big Dog - 1st Vet
Sudety Challenge Stage Race (Pol/Czech) - 7th pairs
Kielder 100 - 2nd Vet
Irish Marathon Champs - 1st Vet
Dusk Till Dawn 12hr - 2nd team
Mtb Tour of Langkawi (Malaysia) - 2nd Vet
Brass Monkey Series 2011/12 4hr - 1st Vet
Thetford Winter Series 2011/12 4hr - 2nd Vet
I used quite a few races as high intensity training as time was at a premium. I hardly ever felt in the elusive superstrong sweetspot though, three 24 hour races in the first half of the season somewhat saw to that.
I think I'll only be doing one 24 hour race in 2012 so hopefully that will leave me fresher for the shorter marathon stuff. There's loads I'm going to do in 2012, two key targets right now are the UK Marathon Champs (Vets) and trying to see if I can win Mountain Mayhem solo for the 5th time. See you at a race sometime soon.
Thanks to;
KCNC
EXPOSURE LIGHTs
Blogger Info:
---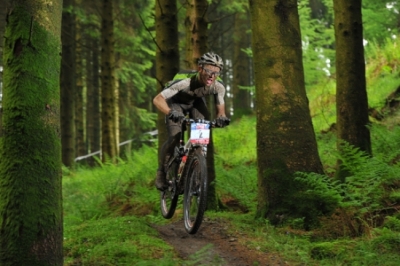 24 solo racer, world traveller and now the man behind the xcracer shop
Read More By Anthony
---
Disclaimer:
This blog post was written by a third party and their views do not necessarily reflect the views of XCRacer.com