---
Winter racing & La Santa 4 day
Share on Facebook
Share on Twitter
Published: 6th February, 2013
Winter racing & La Santa Lanzarote 4 day stage race
Thetford 1 4hr Round 1 - 4th Nov Brandon Park,
First up Thetford round 1. Freezing rain. 1 hour in and I had sense of humour failure. I was just back from tropical Asia and bike and mind wasn't up for this.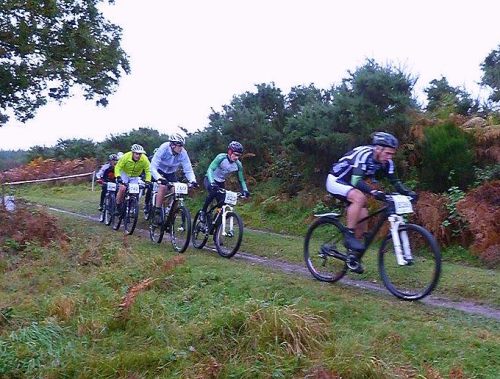 Ashby is a blur
King of Thetford Paul Ashby took the overall victory, I bailed after 1 hour.
Brass Monkey 4hr Round 1 - 25th Nov Ceasar's Camp, Aldershot
The climby one. A good course, pretty much the same as the previous year. I rode well in the first half of the race but weakened in the 2nd half. The flying singlespeeder Al Fairburn sauntered past me and then past Tim Dunford who had bonked and took overall victory.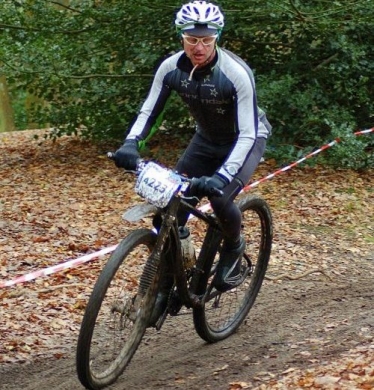 I split my tyre on the penultimate lap and had to chase hard on the final lap to overtake Matt Craner and Nick Butler to grab the Vets victory.
Thetford 4hr Round - 2nd Dec High Lodge
It was super cold but the ground very firm, superfast and super slippy. I stuffed a load of newspaper down my top to keep warm. This was probably the best place for the neighbour's Daily Mail. I wasn't gridded at the start and didn't really make much progress on the first lap, Lots of people were slip sliding over in front in the frozen ground.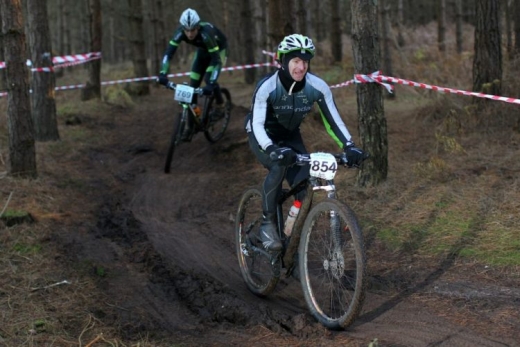 brrr
As the race wore on I picked up place after place and settled into 3rd position with Tom Wragg following close behind. Remarkably both Paul Ashby and Andrew Cockburn punctured so I then got to lead. The lead was kept until the last mile when Paul Ashby came flying through. Tom surged and got second. Bugger.
Brass Monkey 4hr Round 2
I was totally out of sorts, couldn't ride the course for toffee and pedalled squares for 4 hours. It was maybe too much time in the gym, and not enough time on the bike. Al Fairburn punctured Tim Dunford won overall. I was 4th in the Vets which. Simon Willats won. I had some work to do now to secure the overall Vets series title at the final round 3.
Brass Monkey 4hr Round 3
Ben Thomas, Tim Dunford and Al Fairburn set a brisk pace on lap 1 until Tim hit a log. Ben checked to see how bad it was. Not too bad, Tim was just heavily winded. He probably was told to not hit logs, lose the pained expression and MTFU. Both came past me later in the race. Ben managed to catch Al Fairburn for the overall victory. I rode with Iain Paine for the first half and then pushed on. I was enjoying the relatively flat course and had put in some miles over the Xmas period so felt quite strong.
I managed to secure the Vets victory for the race and the series. Yay. Al Fairburn won the overall series in the Open men. Well done to Al, particularly one 1 gear!
La Santa 4 day stage race Lanzarote
75 Euro for 4 day stage race. Mid 60s to mid 70s F. Dry,sandy and volcanic trails. Where do I sign up? This clashed with Thetford round 3. That's a shame J. A great bit of training, although super competitive for January. There was about 150 riders. Just under 100 did all 4 days. The standard was very high at the sharp end of things in the men's field.
Stage 1 30km loop
A typical Spanish start here, no prisoners were held. I gained some places at the start by going around a roundabout the wrong way, and then lost them. A long sandy hill sorted things out.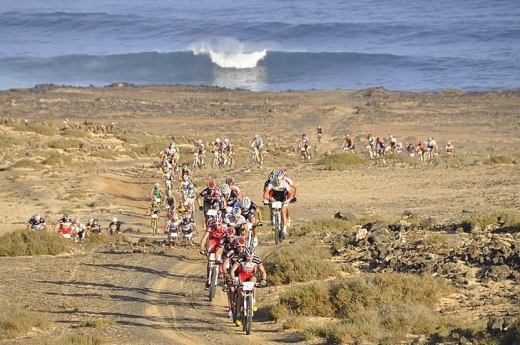 some nice surf
Groups started to form which were useful to be in, in the Lanzarote wind. I was on my own for a fair bit, annoyingly. I caught a couple of riders at the end, including fellow Brit Steve Ferguson. Sally Bigham destroyed the women's field. Spanish Olympian Sergio Mantecon won in 1hr 21.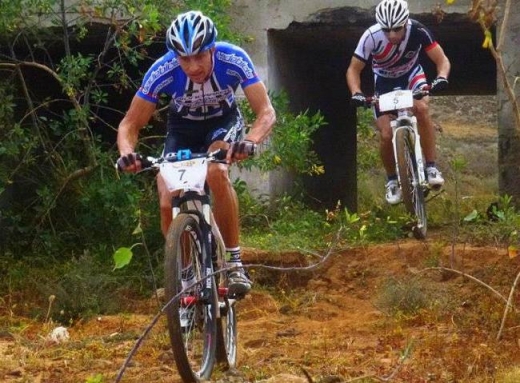 Ouchterlony's still got it.
Evergreen Scot , James Ouchterlony finished in a notable 10th one minute back.
I was 43rd overall, 2nd in the Vets 40+.
Stage 2 60km marathon
This stage took us through the volcanic Timanfaya National Park. After a bit of a slow start I rode strongly in the middle part of the race, catching the Bigham group.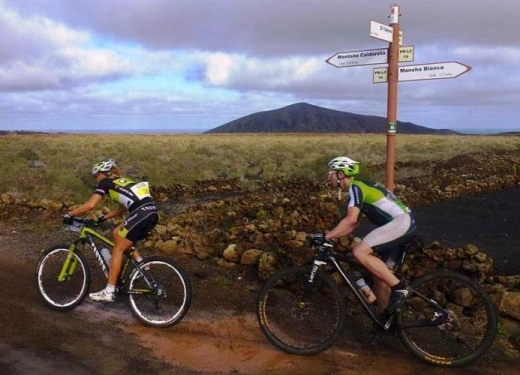 A rare puddle
The 29er and I was making good progress through the sharp fist sized volcanic rocks. I pushed on a bit but my mid race exuberance was punished towards the end as I was dropped by the group of about 7.
Nevertheless, I finished in 34th place (2nd Vet) and moved up to 38th overall. Mantecon & Bigham won their categories again.
Stage 3 25km hill time trial
This was a bit of a sufferfest, as you would expect. Set off at 1 minute intervals I caught the guy ahead by about 1/3rd of the race, but he stayed with me and opened up the gap again towards the end. I couldn't stand up without the tyres spinning and felt like I was pedaling squares in the final run in.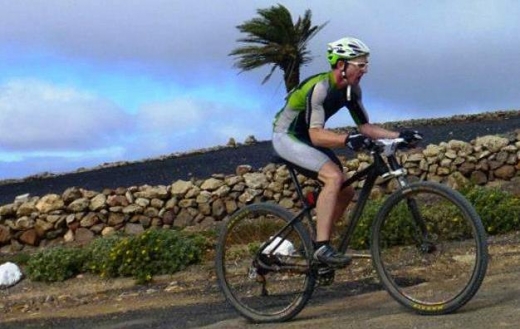 Carrying my lucky shrub in my back pocket didn't help
I finished 48th, 2nd Vet, but now quite along way behind the powerhouse Vet Joan Pons Palacios. Mantecon turned the screw by winning in an impressive 51 minutes.
Stage 4 80km marathon
Again I had a slow start, but knew this would be bit of a war of attrition. Half way through there was a big climb and riders ahead started to crack. I picked up a few places.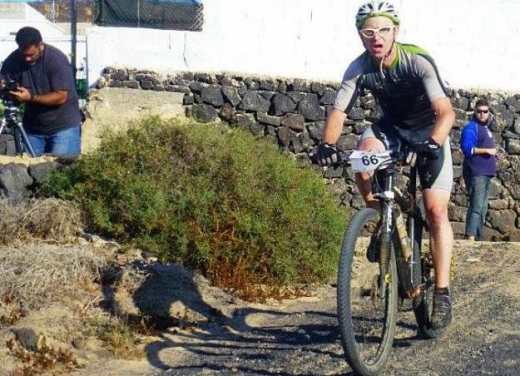 Chasing again
After a couple of minor crashes on the loose surface and a slight detour from the course we popped out onto a great super fast run-in along the coast, very picturesque with nice surfing waves.
I crossed the line after around 3.45 mins in 37th just ahead of a fast finishing Steve Ferguson. German Simon Stiebjahn won the stage, Matecon won overall by 2 min 55 seconds. The top ten was separated by less than 20 mins after the 4 stages, so quite tight.
I achieved 37th in the overall and 2nd in Vets, so was happy with that. A top race, well organised in a great location for training (particularly now I know the mtb trails) … it's in the diary for next year already. Missing the tapas as well as the weather..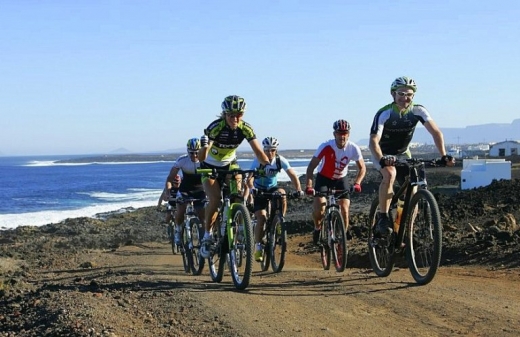 Blogger Info:
---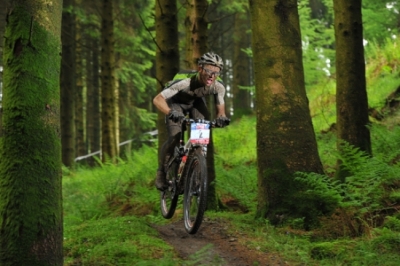 24 solo racer, world traveller and now the man behind the xcracer shop
Read More By Anthony
---
Disclaimer:
This blog post was written by a third party and their views do not necessarily reflect the views of XCRacer.com