---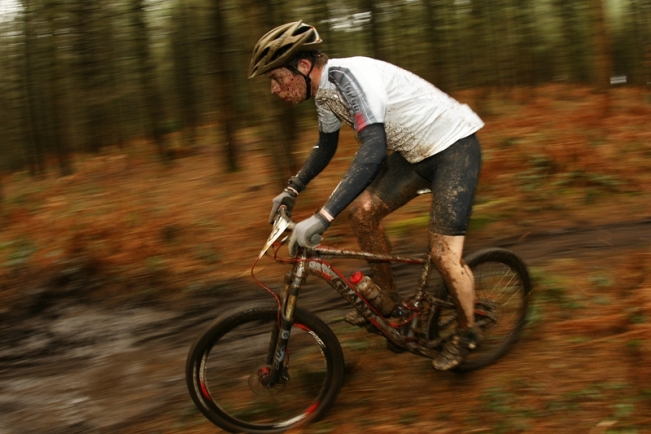 Fully Sussed Summer Series 2012 - Woodbury Common Report
Share on Facebook
Share on Twitter
---
Published: 6th March, 2012
All Photos: Snapper Chick
If ever there was a time when the expression, "You should have been here yesterday" was totally appropriate, it was at Woodbury Common at round one of the Fully Sussed series.
Don't get me wrong, setting the course up the day before in glorious sunshine on bone dry tracks and fitting in a few sneaky laps of the race loop was not without difficulty. For one thing, it was all a bit too much like a modern day Lord of the Files for me, with hundreds of Royal Marine cadets walking round with weapons. SA80s, I believe they were, as opposed to the ZX81 I had when I was their age. It also meant that we had to spend 3 days living in our van on the common, footloose and shower free. Luckily we had our magic sheets with us - you put them on the bed, go to sleep covered in mud and miraculously wake up ship shape and shiny. Bed gets a bit gritty after a couple of days though.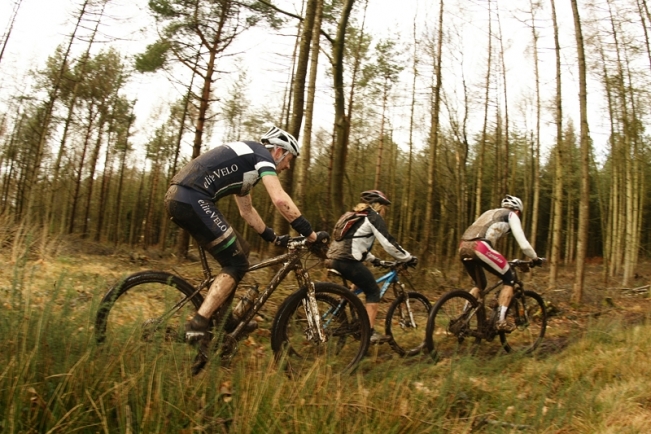 A record attendance for the series, loads of new faces, some notable absences and some seriously good racing across all categories.
There are many highlights for us, mostly that we managed to run a race while simultaneously holding down a couple of EZ ups, fixing bikes, eating hot-cross buns and singing our edited highlights of Phantom. Some of the others are -
1. Probably the best crew of marshals ever assembled at a bike race. We could confidently run the Olympics or invade Belgium with them around us. Thanks chaps.
2. Sole Cycling. A massive 14 club members stretched their race legs for the first time at a Fully Sussed race. Probably worthy of a category of their own.
3. The over achievers - Jesus Zamora carried on for an extra lap in the masters' race after we had shortened the race due to biblical conditions. I guess technically he won the race, but is penalised for not paying attention in class. Meanwhile in the juniors' race, Harry Forshaw came in to finish and win the race but carried on for an extra lap. Ed Welsh in second place did likewise, reeled him in and held on for the win. So who won that one? My BC handbook must be missing that chapter.
4. In my 'I Spy' book of mountain bikers, I scored 100 points with CNP Orbea's John Whittington - spotting an elite MTBer sporting full mudguards and a saddle bag in a race is a double point bonus. John missed his race start, probably due to distant car parking and an endless practice lap. The gap was too much for him to make up and left VOTWO's Sean Frost to take the win ahead of first season experts Steve Hodge from Shred Racing and Certini-McCaulay's Harry Smith. Big up the local boys.
5. The mechnicals. Riders could hear their bikes wearing away at the rate of £50-00 a mile. Southfork's Jane Cummings fell foul and came running into the arena with a tangle of bike bits. The look on Maddie's face when Jane asked to use her new Fate 29er was a picture. Instead it was team mate Luke Eggar who offered his steed after opting for an early bath. Dexter Hurlock decided that 3 chain breaks was probably enough, and there were plenty of other folk planning on a trip to their LBS on Monday.
6. The youth event. We think that British Cycling's Ric Jameson and Andy Parker really excelled themselves and did BC the power of good by doing such a visually good job. The youngsters had a full day of coaching and competition, and while we agree that the format needs bedding-in, we firmly believe that developing a generation of racers that do not rely on getting to the technical sections as quickly as possible and then bimble / walk down the techy bits, but ride there quickly and ride the section quickly too, has got to be a good thing. Chapeau.
7. Man, I loved our new PA system. I still went home croaking like Rod Stewart but it brought my dodgy i-pod music collection to a whole new audience.
8. Lots of entry on the day means that we get to send some cash to
Ryley's Dream to Walk
courtesy of south west bikers.
So grateful thanks to Hot Pursuit Cycles for their support on the day. Also Specialised, Skinners Brewery, Fat Spanner, VeloLoco, Shred and Fine Fettle - a stunning list of prize sponsors that you could never hope to fit on a jersey.
The next round is April 1st
- and it'll be no joke. United Downs near Redruth is the venue but it is always known as 'Mars'. Mars is a historic quarry-based ride venue with tracks that would turn your bowels to water. Come down for the weekend - go to the track at Porteath, eat a pasty, ride in Unity Woods, eat a pasty, go surfing and finish it off with a pint of Skinners. 'Andsome.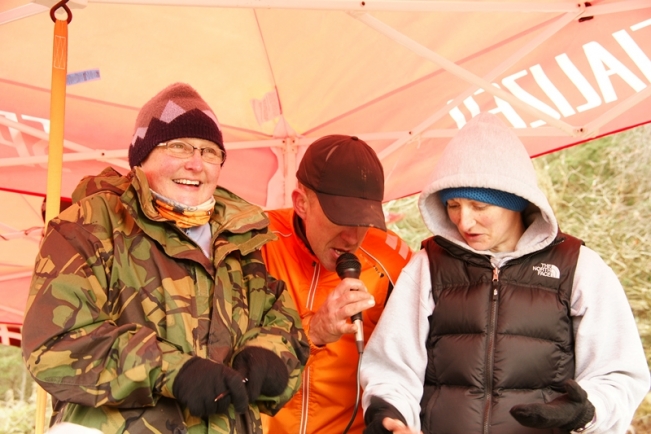 ---
More on the Fully Sussed SW Series - R1:
Event Calendar Listing