---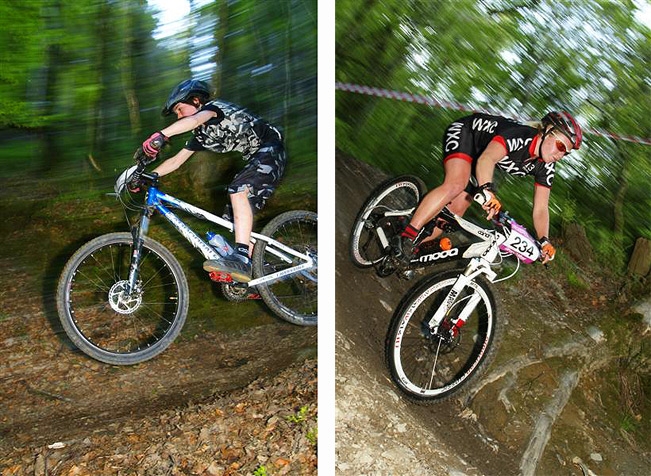 Fully Sussed Summer Series R4 - Forest of Dean - Preview
Share on Facebook
Share on Twitter
---
Published: 31st May, 2012
Phew! With the Olympic MTB places now secured, we can all relax, no more sleepless nights and we can get down to the real business at hand - round 4 of the Fully Sussed Summer Series.
So we're three rounds down and two to go. From here, having challenged South West riders with some pretty varied courses, where do we go? At the Team Fully Sussed team-building / bonding session, which this year was held in the mosh pit at a Wheatus gig, we decided that the only way to surprise riders was to give them a course with nothing that would cause them to soil their chamois. Step up the Forest of Dean!
Unbeknownst (is that a word?) to the rest of the country, we are doing our best to extend the boundary of what is accepted to be the South West by moving the series gradually north and east. This time next year, Rodders, there will be clotted cream on tap as far north as…Gloucester? For this year's South West series, we have opted to go with the Met Office's idea of what constitutes the South West and from next year we will be scouring the archives to find ancient maps that suit our needs. I'm sure that when Ginster was King of Cornwall in the 1500s, his empire spread far and wide.
On several weekends at the beginning of the year, we unproductively scoured the forest, feeling like a Blair Witch Project remake, loving the riding but not finding a way to link it all together. So we decided to enlist the services of local guide Joe Williams and he has shown us a loop that is fun with a capital F.U.N. It's all based at the Pedalabikeaway centre in Cannop where they will be providing refreshments, tech support, hosting the prize giving, writing the theme tune, singing the theme tune. You know the score.
So what's the course like? Well, for once there's nothing that requires you to get your wheels in the air or stick your arse on your back wheel. It's slinky singletrack all the way, and while we hate to conform to formulas, fire road up and singletrack down will be a blessed relief to those that remember 'THE HILL' from Newham. Unbelievably, there are a hardy few who are racing both the Fully Sussed race on the Saturday and then driving to Scotland for the BMBS on the Sunday. They will be getting detention and extra laps for sheer stupidity.
All the series sponsors will be gracing the podiums with prizes, as long as we haven't finished off all the Skinner's ale in the recent hot weather that is. In addition, Juice Lubes also donated boxes of goodies at the Newnham round, including their new 'Chapeau' arse cream, to further boost our prize fund.
The format remains the same - all senior categories start at 10-00, while the youth and juveniles head off for a full morning of timed skills trials. The youngsters then get out for a group pre-ride with a qualified coach at 12-15 on their shortened course. The Go Ride Race will blast off at 12-30, prize giving for all morning races straight afterwards (approx. 12-45) and the youth and juveniles' XC race starts at 13-00 sharp. We run a tight ship here at Fully Sussed, and sometimes it actually works.
British Cycling's Ric Jameson will again be organising the youth event, making sure that his brain child is done properly. We continue to be blown away by the success of this format, if only because of how relaxed and cheerful the kids are before their race. It is really worth seeing just how skilful the young riders are these days - puts the seniors to shame. So rather than scuttle off to your cars as fast as your battered legs will carry you, stick around and give these kids some support. The M5 can wait.
Before you leave, however, just check that you've got all your - bikes, tools, bottles and clothes. Our lost property box is taking up too much room and we may have to be harsh with its contents.
---
More on the Fully Sussed SW Series - R4:
Event Calendar Listing