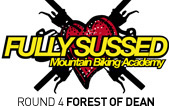 Fully Sussed SW Series - R4
16th June 2012 | Forest of Dean
Organised by:
Browse upcoming and previous events by Fully Sussed Mountain Biking Academy
---
Series: Fully Sussed South West Mountain Bike Series 2012
---
---
According to BC, the forest is in the south, but Forestry Commission class it as South West, which is good enough for us. Make a wekend of it with the XC and downhill trail network - it would be rude not to. The local trail builders have done a hell of a job here.


Event Timetable
0830 Registration opens / Race 1 practice
1000 Race 1: Elite/Expert, Sport, Master, Vet+Grand Vet, Junior, Fun
1200 Race 2 practice
1230 Race 1 presentation
1000 Race 2: Youth, Juvenile
1500 Race 2 presentation
Location:
Forest of Dean
, , Gloucester, GL16 7EH
View Forest of Dean on a larger map »
---
Official Event Website:
www.fullysussed.co.uk/mountain-bike-race-series
---
Event Organiser:
Fully Sussed Mountain Biking Academy
---