---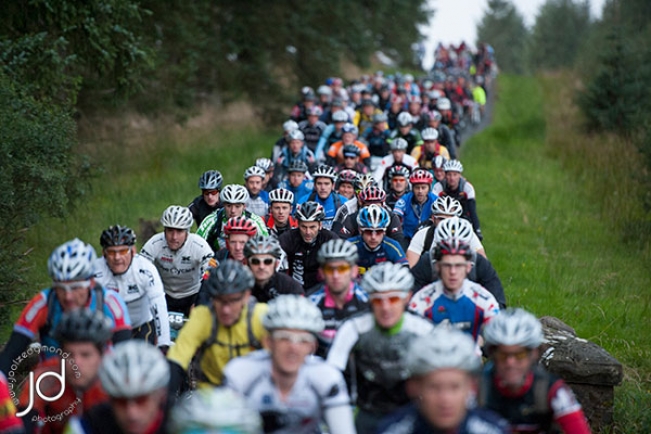 The 2012 Montane Kielder 100 - The Best Yet?
Share on Facebook
Share on Twitter
---
Published: 25th September, 2012
After the wettest Summer on record things weren't looking good for the fourth instalment of the Montane Kielder 100 and the new shorter Montane Kielder 50. But the weather Gods finally took pity on our long suffering mountain bikers and the sun shone with a fervour rarely seen in the remote Kielder valley this year.
With the event being two weeks later it was still dark as the feed stations, water trucks, tech support and dozens of volunteers rolled out of Kielder Castle. Soon after, hundreds of riders lined up on the start line in the toughest field to date with eight of last year's top 10 riders entered, including three past winners and some top international riders.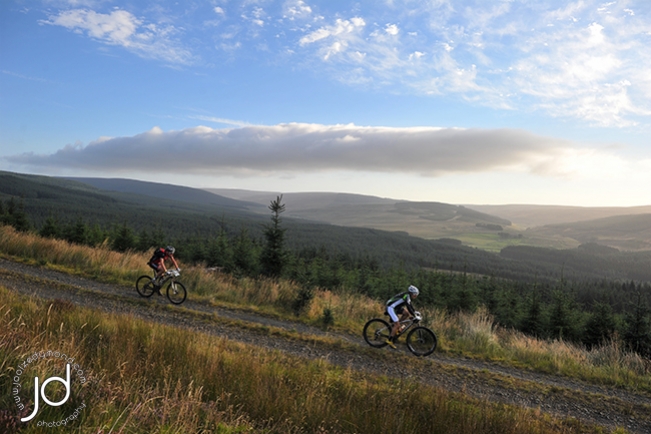 After the customary vehicle lead out the front riders set off at a blistering pace whilst the Tail End Charlie riders settled in for a long day in the saddle almost 15 minutes back after just a few miles. Riding the number one board last year's winner Ben Thomas (Mountain Trax) was in a strong group of five riders including Tim Dunford (Cannondale Racing), Giles Drake (Team-Elite), Tom Stewart (RST Racing Team) and South African Rourke Croeser (Team Orange Monkey-Cannondale). The group worked together covering the first 25 miles in a little under two hours creating a gap to lone rider and leading veteran Rich Rothwell (M Steels/Enigma/Exposure) and a string of riders chasing to catch the lead group.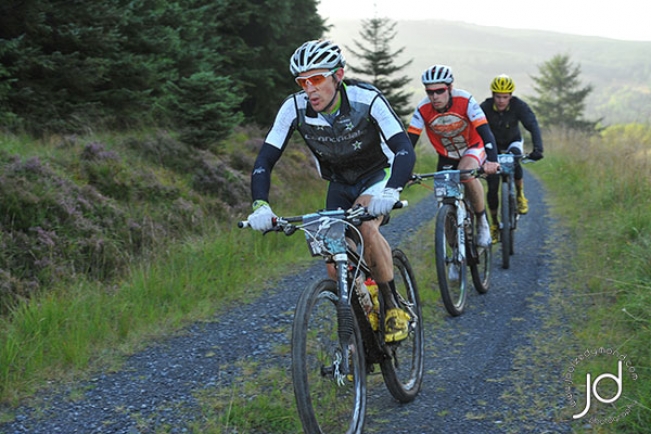 Dunford, Thomas and Croeser
By the half way mark the group was down to Dunford, Drake and Croeser with Stewart a few minutes behind and Thomas had retired. The rest of the top 20 were constantly switching places dropping back with a mechanical or suffering through a physically rough patch, only to catch up again and watch another rider drift back for the same reasons.
Conditions remained good for the rest of the day and unlike previous years when winners had made a lone break from the border into Scotland the lead three were still together heading back over the Burn into England. Recognising the home stretch and with the smell of the BBQ and Allendale beer in his nostrils, Dunford made a break for it and flew down the final descent to finish in a record time of 7:52:24. Drake chased after him and also finished under 8 hours, one of just three people to do so in the history of the race. U23 rider and first timer Croeser finished third in just over eight hours with a fifteen minute gap over the rest of the field.
Ant White
Despite slowing over the last 50 miles Rich Rothwell (M Steels/Enigma/Exposure) hung on to take the veteran male win but was four minutes slower than the course record he set in last year's awful conditions. A storming ride from Adrian Lawrence (Teambglobal) made him the next man home to take second place (over half an hour quicker than his time last year) with a slim lead over third placed Ant White (Cannondale / MT ZOOM Racing).
In the ladies race Amanda Brooks (Ellsworth Haven) had an amazing ride of 10:08:08 to smash the previous veteran ladies record, and is only ten minutes off the open ladies course record set in 2010. 2011 veteran winner Ruth Thompson went over an hour quicker than last year but only managed second and Anne Woods (Saddle Skedaddle) also dropped a place to finish third.
It was fourth time lucky for the open ladies winner Amy Baron-Hall (Cookson Cycles/VeloCake) having won the singlespeed category on her first attempt in 2009 and is the only lady to have finished all four events. Amy took the top step over team mate Alison Mitchelmore and Jill Dawes in third - just half an hour separating all three finishers.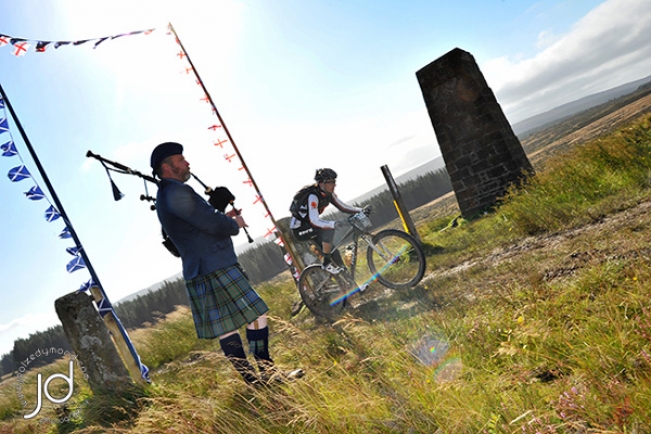 The first Montane Kielder 50 race used the first half of the full route, considered by many to be the toughest half. In training for the Marathon World Championships in two weeks' time, Rachel Fenton (AWCycles.co.uk) had an incredible race to win overall in 5:30:57, half an hour ahead of the open men's winner Chris Green (Accelerade). Ben Butler and Nigel Smith rounded out the open men's top three. Stuart Ridgway took a convincing win in the veteran men's category fifteen minutes ahead of Paul Pickett, who in turn was fifteen minutes ahead of third placed Jon Webster. After 7 hours of racing Linda Shepherd (WNT/Team Mog) came in just a few minutes ahead of Cat West (TopCat Racing) to complete the ladies podium.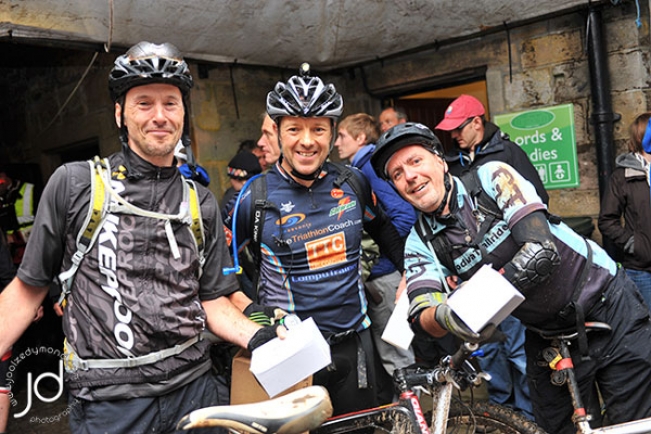 Lloyd, Ward and Coyle
For the next six hours riders trickled over the finish line and made their way back to the castle to collect their finisher's momentos and swap tales of triumph and woe. The evening prize presentation saw winners pick up a host of prizes from Montane, Accelerade and Fizik and some randomly picked riders went home with Topeak and Saddle Skedaddle goodies having spent the day welcoming home their fellow riders and soaking up the atmosphere. The night ended with the biggest cheer of all for last riders home: Ian Lloyd, Simon Ward and Mark Coyle. After a massive 13h43m on their bikes, Mark picked up the Exposure 'Lantern Rouge' prize of a Joystick light, having finished in the dark he clearly needed it.
Thanks to all of our sponsors: Montane, Accelerade, Run and Ride, BikeSeven, Saddle Skedaddle, Fizik, Topeak, ProGold, MT Zoom, Allendale, Joolze Dymond, and Exposure Lights. And to all of the volunteers, helpers, supporters, Rock UK and Forestry Commission. Both events will take place in mid-September again in 2013, see
www.kielder100.co.uk
for full details.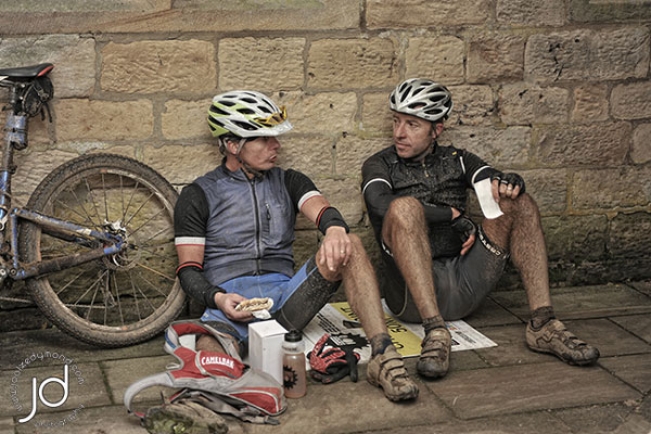 A word or two from the ladies:
Rachel Fenton - 1st (overall and lady) Montane Kielder 50
"50 miles is tougher than I expected, I don't know how people ride 100. It was a great feeling to be told at the top of the last hill that I was the first one through. I think more people should try the 50 miler, it could be a really tough race with a bit of competition, you can go for it that bit more. Then you get to hang out at the castle waiting for the insane guys riding double the distance and drinking beer. What more could you ask for. Thanks Sara and Paul another great event...."
Amy Baron-Hall - 1st Open Lady Montane Kielder 100
"I've now finished this event four times. I was smiling as I crossed the finish line as I love the last descent. I was so happy just to finish as I broke my collarbone earlier in the year and I was unsure if I could last the distance. Finding out that I had ridden a PB and won was the icing on the cake. The only problem is now I have to come back next year to keep my 100% record going (not so much of a chore as I love the event). Thanks to everyone who made my day so much fun, the marshals for always being cheery, the course markers who did such a good job, I never once worried about being off course, and my long-suffering partner Ali who left the support role for the day and rode to a fab 2nd place finish."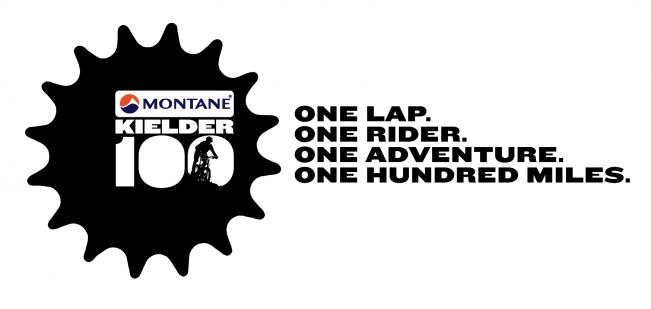 ---
More on the Montane Kielder 100:
Event Calendar Listing