For me, as I am not yet at the level of competing internationally, the national championships are the biggest race of the year, in terms of how significance, not length! I'd raced two champs previously, and both hadn't gone as planned – a nasty cold at Wasing 2012; and multiple punctures at Cathkin Braes last year. So I was really after a good result this time around, and I had planned my season and training around this.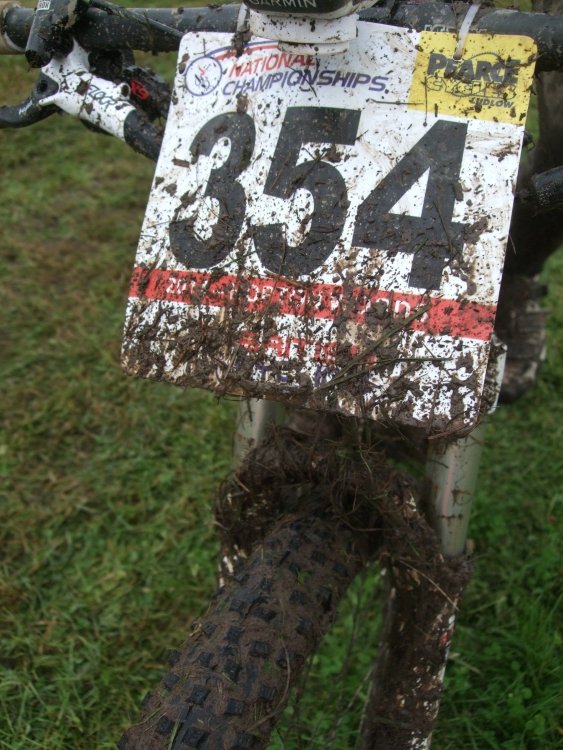 Last year at Hopton, we had been treated to a course that was fun enough that I'd have happily ridden it all day. It was bloody hard though, going straight up the side of the steep wooded hill, then back down again. So I'd based a lot of my training around this course, doing lots of threshold intervals of 15 minutes, getting used to sustaining a high pace on the long climb. I was just hoping that the course was going to be similar to the previous year's…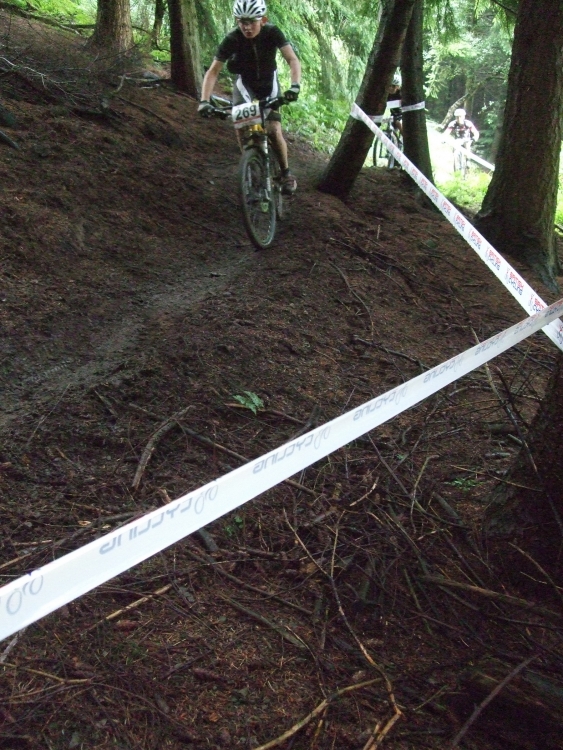 Going for a lap once the long journey was over, it soon became clear that the course was quite different. Aside from being a bit sodden from recent thunderstorms, the climbing was a lot more broken up than the previous year. There was still a lot of altitude gain (141m a lap), but there were some short, moderately technical descents. More technical than they first seemed, as I found out on my second lap, where I upped the pace a bit on the first short drop, and found myself sliding along in the mud with my bike nowhere to be seen! I only had to look to a nearby bush to find my bike though, and I wasn't hurt, so I rode the section a few more times to make sure it'd be sorted come race day.
The only other section that really got me thinking was the highest section of the course, with some steep hairpins/drops, that got more rutted as the practice sessions went on.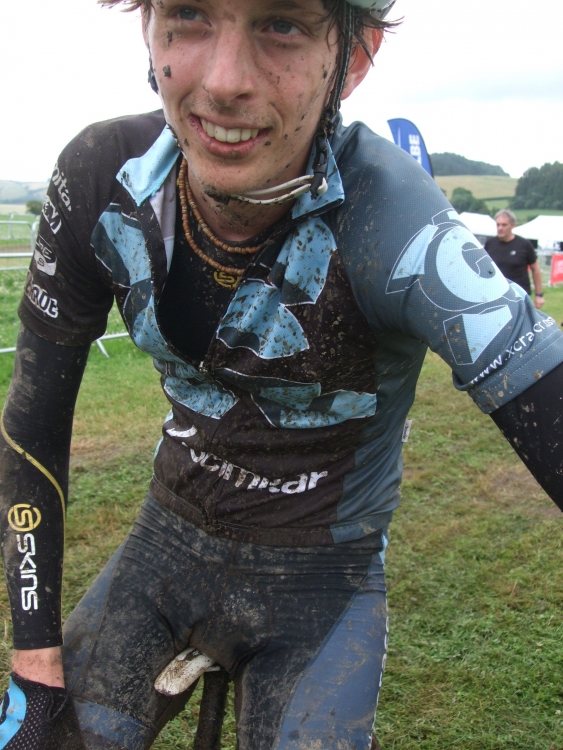 Once I was thoroughly covered in mud, I called it a day for practice, and we headed back to the rented cottage. I was definitely thankful for the proper roof, rather than thin canvas, over my head that night!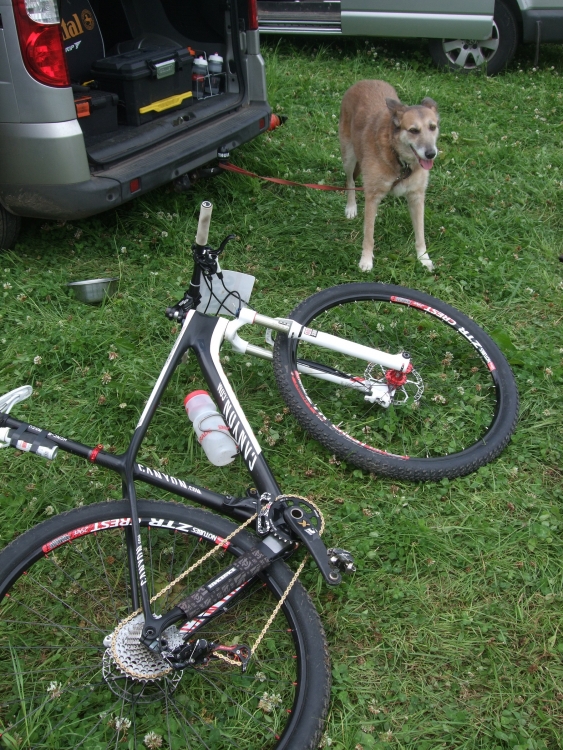 Seeing as our race (senior/u23/junior) wasn't until 3, I enjoyed a nice relaxed breakfast on the race morning. We didn't actually arrive at the hill until about 12, and even then it was quite a wait until the race start.
As always, the hours flashed by, and it was time to start warming up before long. As it was the national champs, I got the full pampered racer treatment courtesy of my parents, being shaded under an umbrella from the intense sun. I'm not spoilt like this on any other day of the year!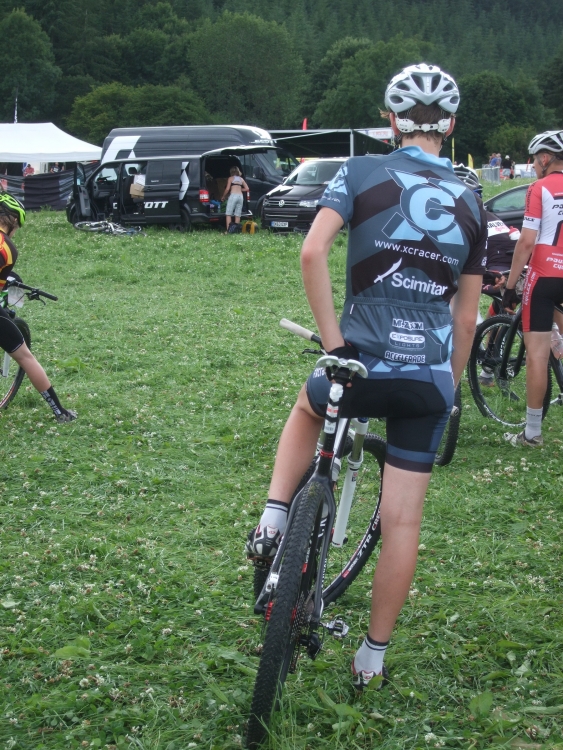 Surprisingly, I was on the front row, in 4th, as it was our national overall ranking that determined our gridding, rather than our series standing. I was pretty happy with this, but if I got one of my traditionally bad starts, then that wouldn't have mattered. So I was determined to get off the line quickly, and spent the few minutes leading up to the start going through the motion in my head – pushing off the floor, clipping in with my right foot, then mashing it!
After the 15 second call, there was an unusually long wait for the gun (more like whistle), and it seemed like minutes that we were stood there twitching and tensed.

Happily, I got off the line quite well, once we did start, and was in the top 8 going into the first corner. Once we had rounded the corner and hit the initial wall of a climb, I started to go backwards. I've always struggled with power for the first 5 minutes or so of a race, and this course really highlighted that. By the time we had come off the fireroad and onto a bit of still muddy singletrack, I was back in about 14th, and not feeling like I was about to move up anytime soon – everything just hurt!

We hit the first short descent in no time, and everything had dried out since the slick practice conditions, the dirt was almost perfectly tacky and grippy. After this point I started to find my legs, and made up some places on the shallow fireroad climb that followed.

Unfortunately, I can't really remember much of the first couple of laps, just that they hurt! I quickly lost sight of the leading group, and re-assessed my race plan to working my way up the field steadily.
Once we had all settled into our rhythm and a general pecking order had established itself, I found myself in a group of 3 or so riders, the identities of whom seemed to be constantly changing. Billy Harding was there for a bit, then went off the front, and couple of people got caught and went out of the back, but me and Arthur Green were the only two permanent members of the group. There were a few sketchy moments, most notably when a senior backmarker stopped at the bottom of the most technical rutted hairpin/drop, and I only just avoided hitting him. We spent a couple of laps like this, swapping places and trying to break each other, before I managed to get away, by means of an overtaking manoeuvre via a bramble bush.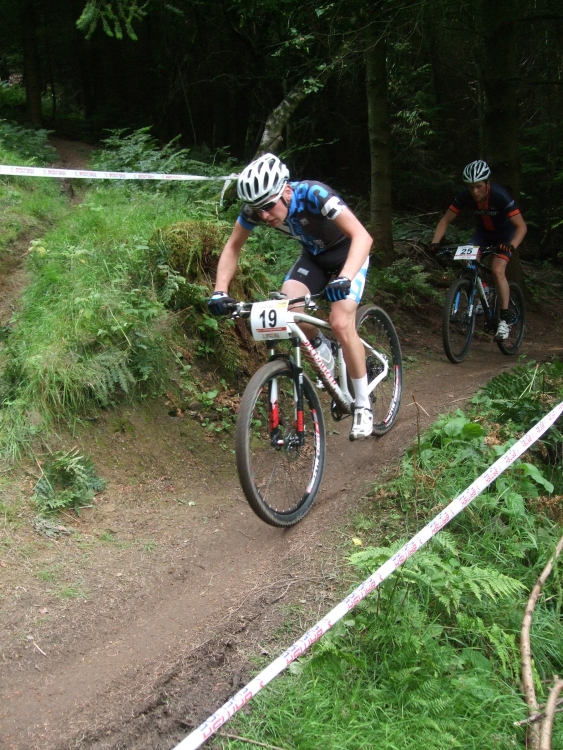 By the last lap I was feeling a lot happier about the race, and was really getting into the feel of it. I could see David Creber up ahead, and dug deep, determined to pick up another place. I reached the highest point of the course absolutely spent, but not really much closer to David. I really put the hammer down on the flowing singletrack that contoured across the hillside, but was still no closer, despite rattling down the braking bumps so hard I could barely see. I popped out into the grass arena with David still in sight, but too far away to catch in the couple of flat turns leading to the finish.


So I rolled across the line in 8th, a position I was very happy with, and should be a good base for building a top result next year, when some of the top guys will have gone to the senior ranks. I felt pretty destroyed, so bought an ice cream (I figured that I'd earned something unhealthy) – top recovery food right?
Well done for Frazer Clacherty who took the stripes in the juniors, then Tom Craig and Dylan Kerfoot-Robson, who were close behind.


Thanks to XCRacer for providing a site for me to post this rambling on, Scimitar for some awesome kit, fuelling from Accelerade, and ultralight Mt Zoom parts that helped ease the suffering on the climbs (thanks to Exposure lights too, although they wouldn't have been much use at this race).


And thanks to my parents, for ferrying me around to distant parts of the country and putting up with all of this cycling nonsense, I really couldn't do without the help.
Part two will be coming soon, covering a race that is a lot bigger in volume, although perhaps not in stature.