So what does that all tell me? Well it explains why house is in such a state and why my bank balance is constantly hovering around zero. It also marks and sign posts a lot of fun times and fond memories of time spent with good friends and great company. It also tells me something; I should have been more honest about my own ability.
I'm actually quite good at riding a bike and I like challenging and pushing myself and if I'd been that honest at the WEMBOs then maybe I could have got an age related medal.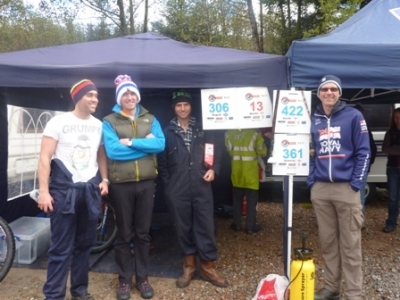 But that's the past and all that that can do is help shape the future.
The future or in racers terms next season. I'm going to continue to seek out new challenges and goals. I've finished reading Joe Friel's MTB Training Bible and I'm already using what I've read to shape my plan for the year. So now 2015 is underway and I'm focused with SMART goals to aim for, I'm training hard using Friel's book, I believe in my own ability and I think that has made me stronger than I've ever been. Only time will tell but early indications are good.
Present – race reports
I'm not usually one for "he went this way, I went that way" reports mainly because:
A I usually can't remember what happened
B I'm normally on my own with the main contenders already gone over the horizon which doesn't make for very good reading
C there are plenty other out there that write a lot better than me.
However on this occasion I might make an exception, as despite the year being only 6 weeks old I've already managed to get 2 CycloX races in and the first 2 rounds of the Soggy Bottom XC Series.
CycloX – Not sure why I do it. They hurt, you're riding an inappropriate bike and it always takes ages to get all the grass out of both derailers and yet if there's a race within distance I'll go along for my hour of pain just because. What I do like about "cross" is the fact the courses are tight and often loop back on themselves so there are plenty of opportunities for heckling fellow riders and throwing banter around which in someways eases the pain.
Race 1 at Plymouth Motopark went reasonably well I had fun didn't crash (admittedly difficult to do in Cross) and finished in the Vet's top ten.
Race 2 was slightly different; I'd spent the Sat night building a frankenCross machine using an old HT frame, ridged forks, 1.5 tyres and whatever gearing I could find ending up with 28x11-34. Annoying on the way across the gear cable mount decided it had had enough and parted company with the frame leaving me with a 28X11 single speed! But don't worry, Dave Fletcher of Velosmith offered me the loan of his very nice 9er CycloCross bike! I was going to fly, finally riding a CycloX bike at a CycloX race except I managed to puncture without completing even one race lap on what was clearly a very capable machine. Not giving up, I'd paid for my hour of pain so I was going to get my money's worth I jumped back on the now single speed FrankenCross bike and rode, ran, rode to finish somewhere at some point. It's OK CycloX isn't my sport, the sun was shining and the Life Center sells pretty good Sausage rolls.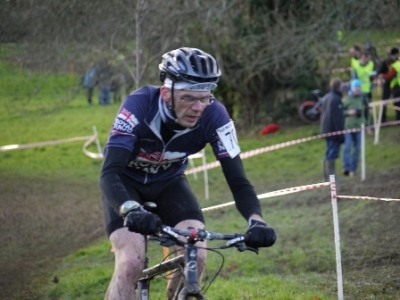 XC racing, however, is my sport. All that training over the winter, getting my hours ridden and doing all the sessions that Joe had prescribed were they making a difference? Would I be able to hit my goals for this season?
Like many other racers coming out of hibernation, these early season events are good indicators of not only ones own form but those around you. We may dismiss them as training rides or "C" races but 10/10s is the only way to ride once you've tied a number to the bars and lined up waiting for the whistle.
Round 1 of the Soggy Bottom winter XC series, didn't go quite as planned with the race starting as a single line I'd hoped to get off the start well and settle at the back of the front bunch which I achieved. BUT just as the field narrowed to head over a bridge I got caught up in a crash undoing the good start I had managed and the front group headed off up the first climb whilst I was still re-arranging my saddle. Only one thing to do, head down, bum up I set about recovering lost places. 13th at the end of the first 1/2 lap I finally finished 7th despite a last lap somersault into the brambles pictures below which resulted in the scrapes.
On further inspection it appeared that the first crash also caused the rail to pop out of my seat, which Sella and Fizik have since replaced! Top service. A look at the lap times suggest 4/5th was possible if I'd not got tangled so I was happy with my form in that race.
Rob
Soggy 2
This time I wanted to get away at the front to secure a top 5 finish, so I had a plan to line up next to serial race winner Southfork's Pete Dawe with the idea of grabbing his wheel off the start, hopefully giving me a prime position going into the first Tech section.