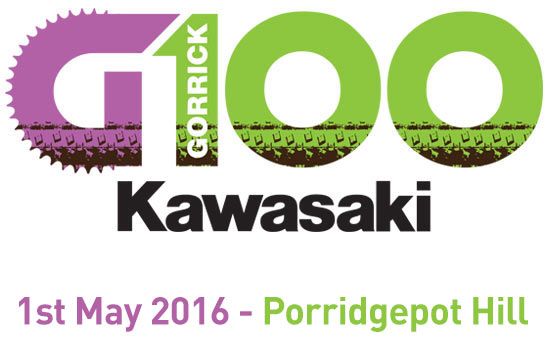 Kawasaki G100 Enduro Challenge 2016
1st May 2016 | Porridgepot Hill
Organised by:
Browse upcoming and previous events by Gorrick
---
---
Although there are some superb prizes for the fastest riders courtesy of headline sponsor www.kawasaki.co.uk the event is more of a personal challenge, as riders have a choice of 8, 6, 4, 2 or 1 lap of a classic 12.5km XC enduro course and then need to complete their chosen number of laps. It is always fun, but challenging as it winds its way through Windmill Hill and the surrounding land, with singletrack aplenty.

Every rider who completes their challenge receives a finisher's medal and there are plenty of trophies, prizes and spot prizes too to be won too. Younger riders, those who are new to XC enduro riding or riders who would just like a taster can opt to ride for one or two laps.

You can expect the usual slick organisation, full facilities and a very friendly atmosphere.


| Category | Age | Start Time | Laps Male | Laps Female | Fee |
| --- | --- | --- | --- | --- | --- |
| Eight Laps | 16+ | 8:30am | 8 | 8 | £34 |
| Six Laps | 16+ | 9:00am | 6 | 6 | £30 |
| Four Laps | 16+ | 10:30am | 4 | 4 | £25 |
| Two Laps | 12+ | 11:00am | 2 | 2 | £22 |
| One Lap | 12+ | 9:15am | 1 | 1 | £18 |
Location:
Porridgepot Hill
Deepcut Sports Ground, Cyprus Road, Deepcut, Surrey, GU16 6TB
View Porridgepot Hill on a larger map »
---
Official Event Website:
www.gorrick.com/racing/enduro/index.php
---
Event Organiser:
Gorrick
---