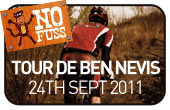 TOUR DE BEN NEVIS
24th September 2011 | The Nevis Centre
Organised by:
Browse upcoming and previous events by No Fuss Events
---
---
The event is about circumnavigating Ben Nevis starting from Fort William the Outdoor Capital of the UK. It is a 72km journey of discovery about our wonderful environment, about yourself and for some we have no doubt, about your bike.

It is an opportunity to ride through some of the most rugged and isolated areas that the Scottish Highlands have to offer. The course is undulating and varied with river and stream crossings, climbs and long descents.

This is one of the country's longest point to point events; this course has been described as MTB Endurance and a Mountain Marathon race all rolled into one. It is tough but it is achievable.

However we stress, this is more of an event than a race. Those that are super fit and want to race hard will not be disappointed and the special timed sections will spice it up a bit and really bring out the competitors from within. Those who see this as a major personal challenge will be able to pace themselves and enjoy the history, adventure, and wilderness of this remote area.

The course will not be littered with signage and support people, it will be left as untouched as possible to allow you to enjoy this environment in its natural state. With this comes some personal responsibility, which is a big part of the event ethos. We are taking the bubble- wrapping away and letting you take on this event knowing that you will need motivation and tenacity to get to the finish line.


Registration - Friday 23rd 6-9pm Nevis Centre, Fort William
There is no registration on the morning of the event, unfortunately if you have not picked up your race number and timing chip/dibber (specific arrangements can be made with the orginiser in extreme circumstances) at registration you will not be able to compete on race day.
A carbo-loading pasta meal is available for any competitor or supporter at the registration venue between 6 to 9pm. The cost of this meal is included in the entry. A vegetarian and meat option will be available.
At the registration you will receive:
• Race briefing, safety and the latest course changes / information. Including special stage information.
• Carbo-loading meal.
• Your personal race number plate and zip ties to attach your number to your bike. The number must be attached securely to the front of your bike for the entire event. Do not alter or cut the number plate in any way.
• Timing chip/dibber
Start Date / Time
Saturday 24th
Reserve day Sunday (all race timings will remain the same). All riders must be parked by 8:30 am to ensure you are at the start line on time. All Riders must be on the start line at 9:30 am for a pre race briefing.
Start
10:00 am. Leave room for elite riders at the front of the start line to ensure you are not in the wrong place when the start gun goes.
Race Briefing
Please read the Race Briefing carefully as it contains important safety and or course change information that you need to know. Route/stage cards will be issued at registration.
Prize Giving
Will be held in the evening.
Prize Giving meal
Additional tickets Prize Giving meals are available for family and friends by ordering from the entry page.
Stage Info
Stage 1
- Lundavra Cattle Grid to View Point, approx 1km steep tarmac climb.
Stage 2
- WHW descent into Kinlochleven, approx 1.5km steep rocky descent.
Stage 3
- Alt Coire na Ba bridge to Loch Eilde Mor, approx 3.3km, landrover track.
Stage 4
- Luibielt to Lairig bothy, approx 5.5km carry/climb and sweet descent.
Stage 5
- Puggy line to BA road end, approx 6km landrover track climb.
Location:
The Nevis Centre
An Aird, Fort William, Inverness Shire, PH33 6FE
View The Nevis Centre on a larger map »
---
Official Event Website:
www.nofussevents.co.uk/event/Tour-de-Ben-Nevis/1813/
---
Event Organiser:
No Fuss Events
---