---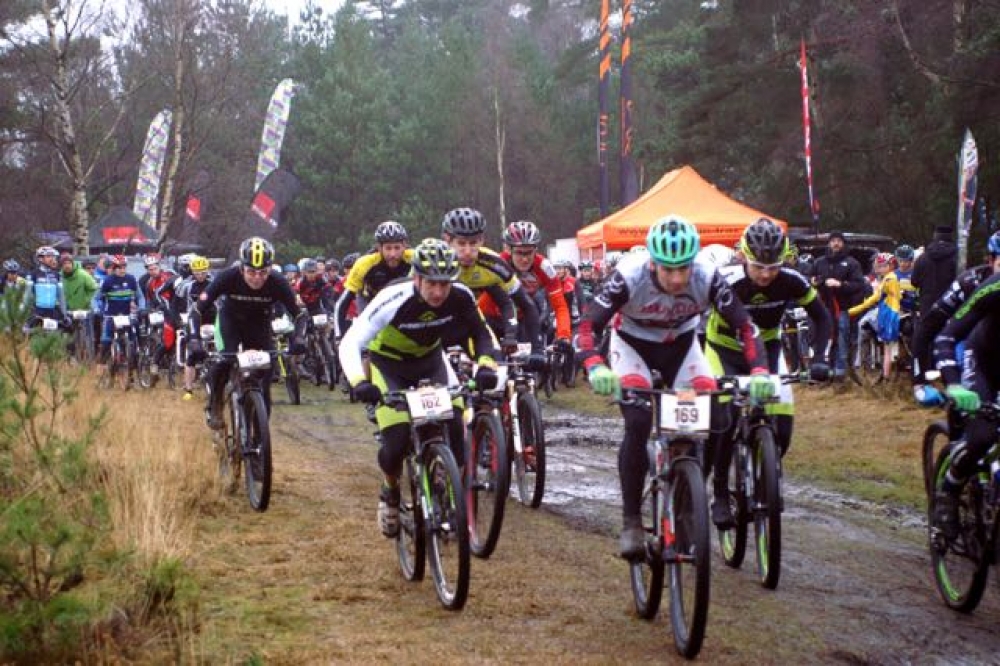 Saddle Skedadle at Saddleback Hill
Share on Facebook
Share on Twitter
Published: 19th January, 2015
Saddle Skedaddle at Saddleback Hill - Even tying it left me tongue-tied!
So its 2015 and the start of another Gorrick race series. This is the 20th anniversary of the Spring Series and they kicked it off with a new venue, Saddleback Hill. Located just a stones throw from the back end of the trail Centre at Swinley Forest, the organizers promised us great things from Saddleback Hill. Given the fact that Swinley Forest is currently a bog made from sandy grinding paste that will do for your brake pads and drive chain within moments, I was not convinced that the new venue would stand up the current wet weather. But how wrong was I! The trails at saddleback were almost spookily dry. The worst areas by far were the car park and fire road to the sign-on caravan. I am told this is because the trails are predominantly deep pine mulch on top of a very gravelling rock bed, which produces an exceptionally well draining surface with a completely natural feel.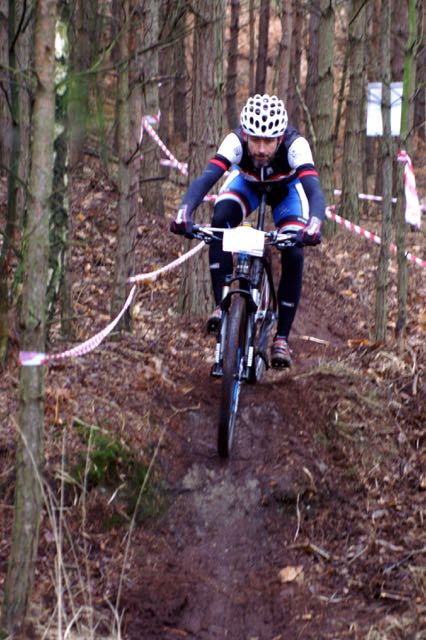 I suppose I should get my excuses in now. After catching whatever viral bug is circulating locally over Christmas I managed to pull an intercostal muscle coughing. I know it sounds lame but I have been in agony. It put me out of the last round of the Brass Monkeys series and I am still not race fit. I am no longer in pain during everyday activities but breathing hard, rapid twisting of my upper body, and any jarring or jolting movements (not to mention sneezing) still leave me clutching my ribs. So I managed no more than a reccy lap and much heckling from the sidelines.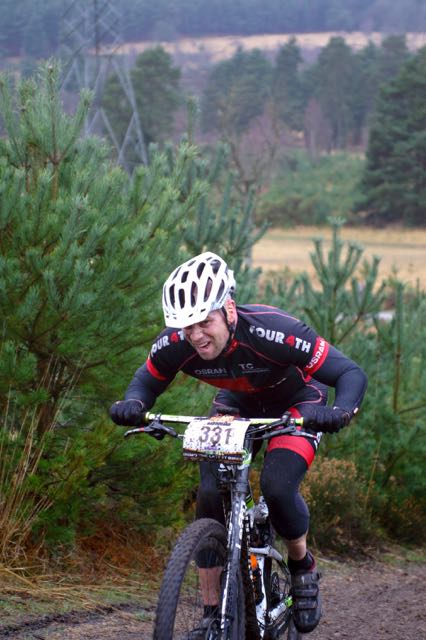 This climb started to pinch a bit by laps 4 - with Duncan Hards, Four4th Lights
The course was everything we have come to expect from a Gorrick event. Well conceived, plenty of single track and a couple of evil sections thrown in just to remind you it is supposed to be hard work. The 6.5km lap only had 120m of climbing but the GPS profile looked like a saw tooth. It was a great course but definitely one that rewarded hard work.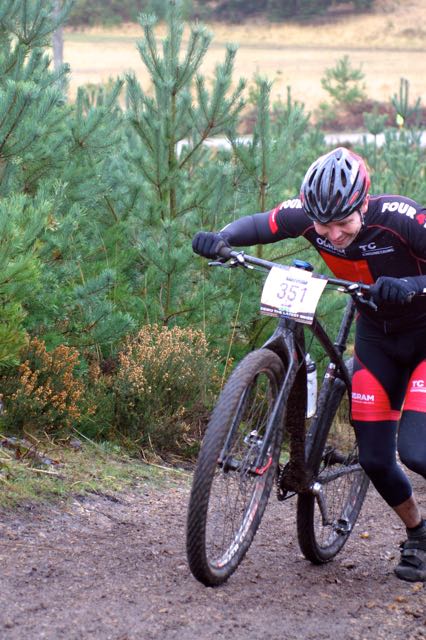 Phil Paris realised too late that he left his gears at home. This was not the most single speed friendly course.
The day kicked off with the kids races which saw record numbers of youngsters entering. The Gorrick team have been trying hard to encourage more young riders and this work seems to be paying off with an amazing 23 boys racing in the under 11 category. In fact all the categories were well attended, flying in the face of the current suggestion that XC racing has had it's day.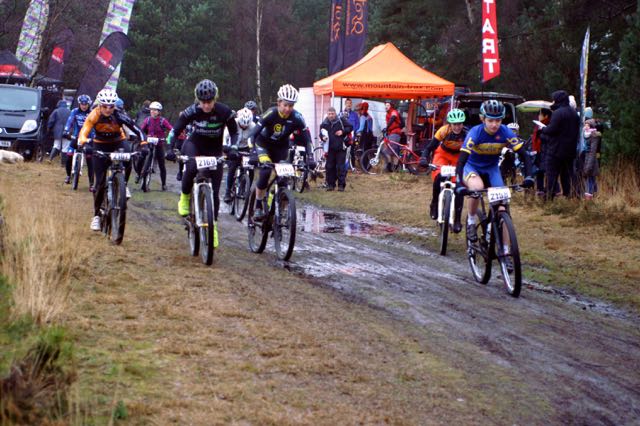 The ladies Expert race
The Men's Expert, Sport, Masters Plus and Veterans Plus, Women's Expert and sport races were the next cohort to be set off. Mother nature treated us to a 10-minute shower as everyone lined up on the start line but apart from that it remained relatively dry and cold. The Men's Expert race got off to a flying start with Phil Pearce, Daniel Tulett and Tim Dunford fighting it out for top spot while Isaac Pucci could only watch from the sideline, nursing a recovering injury. Daniel took the win after 5 laps, only a few seconds ahead of Tim. In the ladies Expert race, GB Olympic Development rider Emily Wadsworth set about showing everyone else how it was done. Alexis Barns was a strong second place, with professional Xterra athlete Louse Fox taking eventual third after Jo Munden, riding for team Pedal Heaven, retired after 2 laps suffering from the effects of trying to race when ill.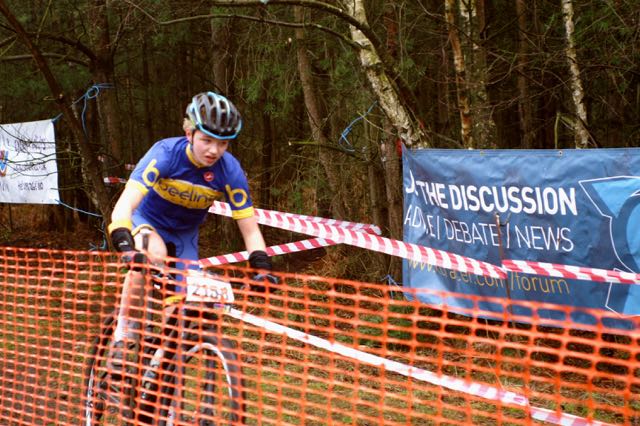 Emily Wadsworth, winner of Ladies Expert race, completing her first lap in the lead

In the other races, Jamie Newall and Pete Moore battled for first and second place in the men's Masters Plus category and in the Veterans Plus category Richard Penning piped Warren Jessie to the line after Lewis King lead them round the first two and a bit laps.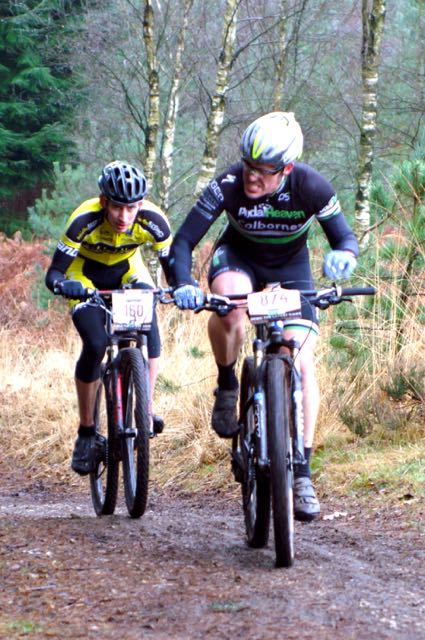 Jamie Newall, winner of the mens Master Plus race gives it his big ugly pain face
An excellent start to the season and hopefully a venue we will be returning to. Time to get on now and hopefully see you all at the next race of the series in February.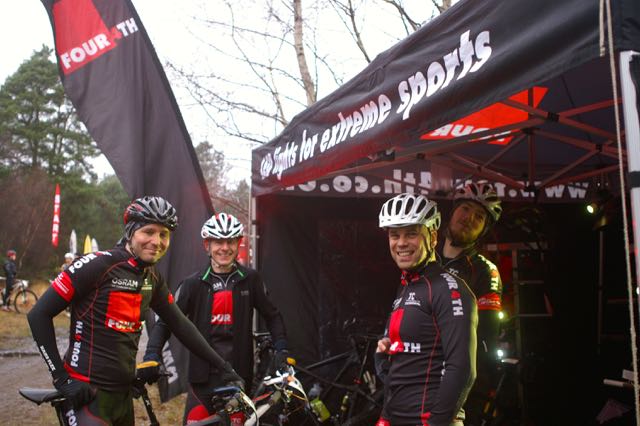 Sponsors Four4th were out in force
---
More on the Gorrick XC Saddle Skedaddle Spring Series 2015 Rd1:
Event Calendar Listing
Blogger Info:
---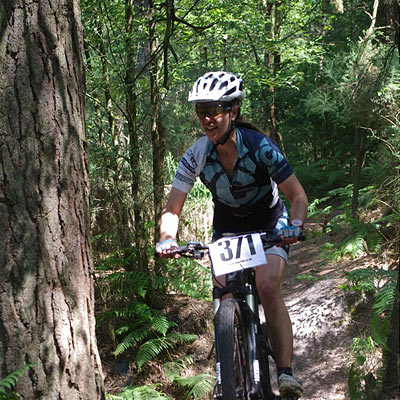 Mum, Pharmacist and XCracer Team Rider

Read More By Louise
---
Disclaimer:
This blog post was written by a third party and their views do not necessarily reflect the views of XCRacer.com