---

Slip Sliding away - an Idiot Onboard
Share on Facebook
Share on Twitter
Published: 27th January, 2014
They say that you should embrace the new and not shy away from a challenge; well on Sunday, under near biblical rain I had a pretty good go at both riding in my first Gravity Enduro. For those of you who don't stray far from the tarmac a Gravity Enduro combines the best bits of XC racing whilst avoiding the lung busting race up the climbs. A GE usually consists of timed Technical/Downhill sections linked by un-timed "liaison" sections.
Sunday's event consisted of 3 technical sections in a 14k loop, using Newnham Park and for the first time Cann Woods. Being local I've been lucky enough to have raced and ridden extensively in both Newnham and Cann, so I knew I'd be in for a good days riding and was interested to see how the new (to me) format worked and whether me and my bike would survive.
Tech riding isn't my strong point (several fellow riders were surprised to see me at the start and even more surprised to see me at the finish alive and in 1 piece) and that was one of the reasons for entering; to try to improve my riding. Other reasons included the event was organised by friends, it was only 7 miles from my home, I'd never done one before and it offered a day of riding with friends.
After the usual; coffee, banter and numbers, riders began heading out for a sighting loop. I rode out with Rob Clay of www.wildbike.co.uk and local father and son pairing of Nic and Ed Worthington and we found water, water everywhere. First tech section was "Cottage Return" an iconic single track decent in Newnham Park, which on the day had a river running through, across and down it. Safely through stage one, we headed out of Newnham and across the road into Cann Woods; the second stage started flat and then got steeper and then rooty and finally steep and rooty. First bit was OK, second section was fine, last section was a challenge where I paddled, slide and fell to the finish. And then Jay Williamson came down the last section; he launched off a small mound, cleared the first corner railed the next and then flew off into the distance! So that's how it's done.
Reconvening at the bottom, the four of us regrouped, swapped stories and line choices and moved on back to Newnham for a look at the final section.
The last section started flat and ran into the "caldron" before crossing the fire track and heading down the "mineshaft;" another iconic section which starts off steep, goes off camber before finishing with a muddy shoot. For everyone who rode the last section clean (relatively speaking) many more ended up butt surfing through the timing beam.
Back to the car park for a change of clothes, another cup of coffee and then back out for the timed runs. As it had stopped raining some time earlier the raging torrent that Cottage Return had become had abated but it was still wet, slippery and with over 100 bikes having already been across the ground, parts of it were now unrecognisable from the earlier lap. All was going well until the final muddy section, then sky, ground, sky, ground.... it seemed like it took ages to extract legs, arms and body from the bike; remount and finish the section.
With all four of us "safely" through the first stage we moved on to Cann Woods for Stage 2. Stage 2 was far too similar to the first stage with the passage of bikes cutting up the course; add in my nervousness and a seat post at XC race height and it was only going to end one way. I got further down the last section before Rob, who had started 30sec behind me, was breathing down my neck; this was enough to send me crashing into a tree in part to let him past but more because I had reach my level of ability.
A quick dip in the over flowing stream to clean mud from gloves, grips and drive chain and it was back to Newnham for the last stage. A fast pedalling section was OK before the caledron which went without a hitch. Drop into the Mineshaft was ridden like I knew what I was doing, the off camber section was a mix of pedal, paddle, push. Getting closer to the baying crowd around the bottom of the last shoot, I tried to look the part and ride but it was never going to end well, although I did avoid hitting the trees and just about stumbled through the timing beam.
Waiting at the bottom for Ed and Nic to make their appearance I was able to see how it should have been done as a rider from Plymouth Uni came flying down the section, straight through the timing beam and on into the distance, obviously speed was your friend in this instance.
That was it. About 2hrs out on the bike about 10 mins of times sections, 2 sets of wet kit and a shopping list before round 2.
Thing's I've learnt,
grips don't grip when both them and your gloves are covered in mud.
Platform pedals or at least some that don't appear to have stopped clipping might have helped.
Trees are more comfortable to crash against than they look
Seat dropper posts might be a worth investment
Gravity Enduro's are a fun day out; you don't need a "big" bike, full face helmet and pads.
Excuse the lack of Pictures, my usual support team made the right choice and stayed in bed!
---
More on the Race Face Circus of Dirt Enduro 2014:
Event Calendar Listing
Blogger Info:
---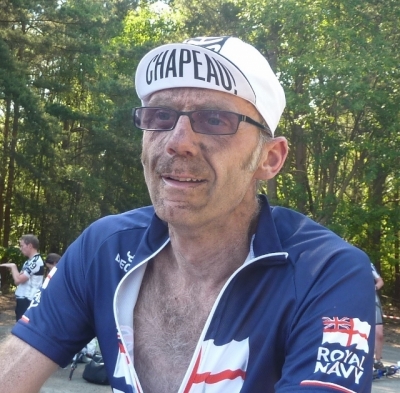 new racer trying to fight his way through the masters pack.
Read More By Rob
---
Disclaimer:
This blog post was written by a third party and their views do not necessarily reflect the views of XCRacer.com