---

Tales from the other side
Share on Facebook
Share on Twitter
Published: 13th June, 2016
Time to handover the keyboard to the power behind Team Smith, here's her view of what may be the last "Bristol Bikefest"
Well what a weekend! Friday afternoon saw Rob and I on our way to Ashton Court to take part in Bristol Bikefest. Bikefest is a 3,6 or12 hour mountain bike event that you can complete as a soloist, pair or in a team.

We were racing as a mixed pair in the 12 hour event, 0900 to 2100 and although we

were definitely the oldest pair in the category that didn't stop us from having a fantastic race.

We arrived Friday afternoon, parked up and got the bikes out. My nerves were threatening to get the better of me so we headed out for a practice lap and some coaching!

I'd ridden around Ashton Court before so knew that whilst the lap was unlikely to be ninja technical it would be fast and furious with plenty of turns and trees and a few gnarly climbs.

"Perfect for you" says Rob.

Don't get me wrong I love riding my mountain bike and have improved my skills so much in recent years but it still scares me at times. A 'small' off at last year's 24/12 had left me more nervous than I realised and I've struggled since then to regain previous confidence levels and by that skill level too.

After a quick chat with some of the organisers we set off, the weather was dry and warm and the track was dry too. A 4.5 mile lap mixture of wooded single track and man made trails, 3 long climbs and 1 sweeping descent, a wooden bridge (no trolls) and plenty of rocks, roots and whoops!

We started well pedalling hard through the wooded single track, lots of twists & turns giving me chance to use the coaching I'd had to good use. "look through the trees, look where you want the bike to go."

Poor Rob, I'm not an easy student, I'm not good at believing in my abilities and am incredibly stubborn!

The lap was going pretty well, I had a few wobbles going over a couple of stone slabs and had to practice riding between 2 rocks and a sharp right turn. Next was the big long gravel climb, I'm a plodder so I plodded on up with Rob reminding me to keep looking up and forward. A left turn at the top took us back into the woods, first came the bridge though. Well a 6 wooden plank wide slope, flat top and same down, add in rocks n roots on the approach and a fast ride out and yep the brakes went on and Rob went over on his own. I learn best by watching then trying it myself, I can't get my head round explanations and techy talk, so I watched Rob then had a go, really odd but the worst looking approach was actually the best as it took me straight onto the bridge , essential once the rain came for race day.

Fast flowing trail followed, lumps and bumps, free speed and ride the berm! Being a trail there were red and blue options and I took the blue the easier one as I didn't want to fluff the red and get landed on by a pile of mtb racers.

After a bit of head scratching we worked out the next bit, a long fire track descent with a sweeping left hander followed by a tight righthander, down we went which could only mean 1 thing.

A short ride along a slippy muddy rooty track into a rooty pebbly off camber uphill right hander, wide cornering would get me round but the woody hill got the better of my leg power.

Back into the woods and one of those trails that looks level but isnt! A morale sapping incline so gentle you thought you'd imagined it. Twists and turns, lumps and bumps. Back out of the trees and onto a fast flowing track by the quarry edge (yes there was a fence), the most fun part of the course, twists n turns, rocks n roots.

I have a problem with drops.

A flattish stone, with a drop the other side of no more than 6 inches it may as well have been 6 feet. A previous encounter with this feature had resulted in a full blown off the bike toys out of pram moment. Today wasn't looking too good either. Now I know there are techniques for getting over stones, drops etc but most require speed and the skill to lift the front of the bike . Yes I have the speed if I release the death grip on my brakes but I don't have the ability to lift the bike. In my mind it goes like this: ride up to stone, over stone, front wheel drops I land on my head over the bars....

Rob's version, controlled speed roll over stone, carry on. Rob struggles for a bit to understand my fear of such a small obstacle, he rolls over it Jane style and survives, I'm still not convinced. However it's the blue line, there is no alternative!

So, whilst Rob does his best impression of not being frustrated and isn't actually watching me I have a go. I'm alive, hmmmm, I go back and try a few more times. I can't believe how pleased I felt and relived that I hadn't landed on my head.

Final blast through the quarry track and out onto the last climb. Not particularly steep but a horrible surface of loose gravel and embedded pebbles, my nemesis. I walked it until it levelled then jumped back on for a blast along the track, tight left hander to the field, 90 degree right into the arena and over the line.

I'd survived my practice lap, we were still talking and I was smiling.

Into registration, signed on and off we go.

Saturday brought a wet start and a nervous Mrs Smith. I knew I could ride the lap but I was nervous about the wet surface and the other riders.

It was ok, the surface held up well, talking away to myself as I do I repeated Rob's mantra "let the bike move under you - don't fight it" .

The other riders were fine too, on your right/left and on they went. There's always the odd one or two who don't care and push on past but I always make sure they know I'm not impressed.

The climbs were slow and the bridge slippery but I whizzed through the bits I could do well and even rode the whole wooded climb on my middle lap.

The atmosphere was fab, riding in RN kit always gets you positive comments and Saturday was no exception. We know a lot of south west riders and they gave me plenty of encouragement as they rode past as well as looking out for me while Rob was out on course. Rob was riding 2 laps to my 1 which gave me time to eat, drink and recover.

My lap times it turns out were pretty consistent around 41 minutes which I was thrilled with. I'm not a hugely technical rider but I'm stubborn and hate giving up.

At the end of my 6th lap however about 1900 I knew I had to stop, the corner before the big woody hill had me beat and I couldn't ride the morale sapping wooded section fast enough to get over the roots n rocks.

Add in a load more fast riders starting at 1800 with fresh legs meant I was being constantly passed dropping my speed even more.

Time to hand over to Rob, I'd completed 6 laps and almost 5 hours of fast pace (for me) racing, the most I've ever achieved. I was smiling and I was feeling pretty proud of myself.

Rob went out with a plan of a double lap maybe a triple, laptimes were fast and in the end he finished with a quadruple non stop . Awesome!

We finished the event in 4th place with a total of 23 laps covering 105 miles in 11 hours and 51 minutes.

I've regained a lot of my confidence this weekend, I know I can ride stuff, I know I can race.

As always I wouldn't have done so well without the cajoling and coaching from Rob. For once he didn't have to pick up my bike as I stomped off into the distance after a failed attempt at a techy bit.

Like I said I love riding my mountain bike. ........


Thanks to Rob (and Joe) Barker for making me smile.
http://www.robbarkerimages.com/events/gallery.php?mode=gallery&id=201&page=1
---
Click any of the images below for a larger view / slideshow
---
More on the Ritchey Bristol Bikefest 2016:
Event Calendar Listing
Blogger Info:
---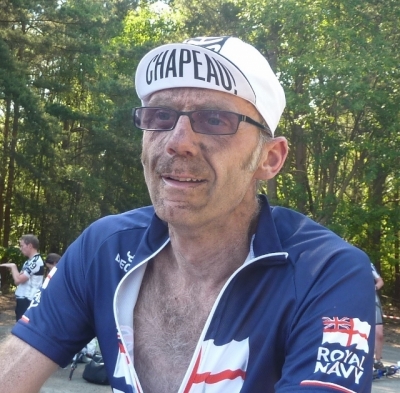 new racer trying to fight his way through the masters pack.
Read More By Rob
---
Disclaimer:
This blog post was written by a third party and their views do not necessarily reflect the views of XCRacer.com