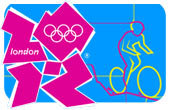 london 2012 Olympic Mountain Bike Event
11th - 12th August 2012 | Hadleigh Farm
Organised by:
Browse upcoming and previous events by London 2012
---
---
At London 2012, the Mountain Bike competition will take place at Hadleigh Farm in Essex. The newly constructed course, built especially for the Olympic Games, will provide a tough test for competitors from all over the world.


Womens Cross Country Mountain Bike Race
11th August 2012
12:30 - 14:30
Mens Cross Country Mountain Bike Race
12th August 2012
13:30 - 15:30
Medal events:
2
Riders:
80 (50 men, 30 women)
About Hadleigh Farm
Construction of the Mountain Bike course was completed in March 2011.
Hadleigh Farm in Essex was chosen because it fulfills requirements as a technically challenging course.
Hadleigh Farm is owned by the Salvation Army. The venue covers a 550-acre site including beautiful grassland and woodland. It also includes the surrounding countryside of Hadleigh Castle Country Park.
The terrain is hilly with open grass land covered by low shrubbery. The site offers some fantastic gradients for mountain biking and great viewing opportunities for spectators. The course is set against the backdrop of the 700-year-old ruins of Hadleigh Castle.
Location:
Hadleigh Farm
, , , Essex, SS7 2AP
View Hadleigh Farm on a larger map »
---
Official Event Website:
www.london2012.com/cycling-mountain-bike
---
Event Organiser:
London 2012
---