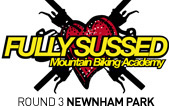 Fully Sussed SW Series - R3
13th May 2012 | Newnham Park
Organised by:
Browse upcoming and previous events by Fully Sussed Mountain Biking Academy
---
Series: Fully Sussed South West Mountain Bike Series 2012
---
---
Ok, so you survived the Bear Pit at the BMBS. At the SW champs the gloves will come off. After a well earned easy winter, Newnham will peak to fighting fitness by May. Cowards won't show, and the weak will die.


Event Timetable
0830 Registration opens / Race 1 practice
1000 Race 1: Elite/Expert, Sport, Master, Vet+Grand Vet, Junior, Fun
1200 Race 2 practice
1230 Race 1 presentation
1000 Race 2: Youth, Juvenile
1500 Race 2 presentation
Location:
Newnham Park
Plympton, Plymouth, Devon, PL7 5BN
View Newnham Park on a larger map »
---
Official Event Website:
www.fullysussed.co.uk/mountain-bike-race-series
---
Event Organiser:
Fully Sussed Mountain Biking Academy
---