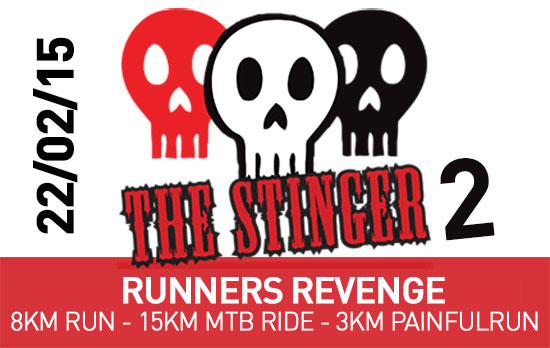 Stinger 2014-15 rd 2 (Runners Revenge)
22nd February 2015 | Newnham Park
Organised by:
Browse upcoming and previous events by Fully Sussed Mountain Biking Academy
---
Series: Stinger Series 2014-15
---
---
Entry to this event is available on the day.
Runners Revenge (8km run/ 15km mountain bike/ 3km Stinger run).
The Runners Revenge format kicks off with an 8km run taking in a 5km trail loop followed by the 3km Stinger run, you will then take on the 15km mountain bike stage, followed by a final run around the 3km Stinger run – think deep mud and steep slopes.
As its name suggests, the Runner's Revenge will play more heavily into the hands of the runners (although you'll need to be able to ride a mountain bike too!).
You can tackle the event as a solo, or in a relay pair (one runner and one rider).
Location:
Newnham Park
Plympton, Plymouth, Devon, PL7 5BN
View Newnham Park on a larger map »
---
Official Event Website:
www.fullysussed.co.uk
---
Event Organiser:
Fully Sussed Mountain Biking Academy
---