---
Road trip
Share on Facebook
Share on Twitter
Published: 25th April, 2011
After a lacklustre few weeks on the bike I decided there was only one solution, road trip! I'd rushed to rebuild my 29er all week and I had a swift trip to my local bike shop to get the final pieces of the jigsaw before I piled the car high with bike stuff and set off in a vague direction north. I had limited plans other than to hit up SXC2 at Aberfoyle and get some valuable racing and riding in the legs.
First stop was Swaledale and another dose of the
Dales Bike Centre's
fine rocky singletrack, retracing some of the tracks I'd
done previously
I set off at an unsustainable pace up the first hill. My rested legs significantly keener than my bunged up chest. Exuberance led to an inevitable slowing of pace and I took time to enjoy the fantastic trails North and South of the valley. With temperatures in the high teens my white Scottish skin started turning a dirty brown, can dusty trails be counted as fake bake?
After a shade under 4hrs my camelback was dry and the sun was beginning to lose its heat. Time enough to snaffle a double expresso and walnut cake before setting off in the vague direction of Scotland.
Saturday morning dawned as most do in Scotland, with a dose of rain. Still with far too much motivation I pitched up at Drumlanrig just across the Scottish border to sample some of
Rik's
hand carved singletrack finery. Setting out in the drizzle it quickly turned to a downpour and the rooty trails just got better and better. I can't insist enough that any mountain biking visit to Scotland takes in this amazing tribute to perfect woodland singletrack. It's difficult to describe when a trail has the correct balance of flow and technical interest but Drumlanrig has "it" and keeps producing around every corner.
Another ride, another double expresso and the slightly more responsible food choice to fuel me up for the afternoon, pre-riding the Aberfoyle xc course. Arriving mid-afternoon I bagged a bargain B&B right on site for the tidy sum of £20 and set about de-rusting the chain from the mornings soaking at Drumlanrig. I think VW need to develop a climate control setting for wet bikes.
Why choose Aberfoyle course? I hadn't ridden here in over 8yrs but it's proximity to the border and memories of spectacular rooty, natural and steep trails were still treasured. The first lap didn't disappoint, except for the dubiously named, "heartbreak hill" which had me testing the 26t-36t combination for the first time. Minor inconvenience out of the way the "one up-one down" format was fully employed and the downs were brilliant! Perfect for weighting up the front wheel and just letting the back wheel drift wherever it wanted which it frequently did on the many off-camber sections.
I followed the first practice with 2 more, just because it would have been rude not to. I am hoping for more of the same at the
No Fuss 10 under the Ben course in May
!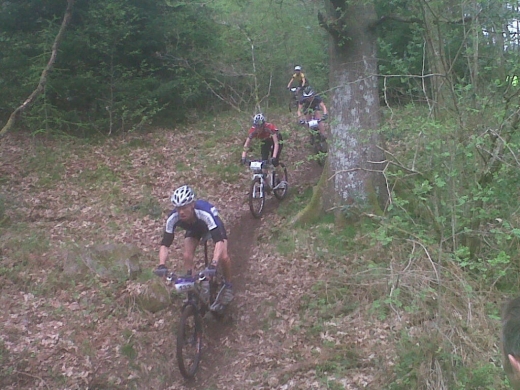 Sunday dawned and after the obligatory cups of Illy from the town centre I was nearly ready to go. Fortunately my parents arrived for bottle honours and at first I thought the dog was happy to be at a bike race, although it turns out he was more interest in my lunch. Food is a common theme in my family, even amongst the pets.
Pulling on the new XCracer team kit really gave me a boost to ride well on this course and get all my energy out, the warm up consisted of one more practice lap because I just couldn't help myself. It also served to note that two more English based riders, Simon Ernest and Rob Friel had made the trip North, pushing me further down the finishing order, doh!
Gridding confirmed and we were now up to 6 laps which I was not ready for! I wasn't confident I could ride up heartbreak hill 3 times, let alone 6 and so it turned out. After a suspiciously sedate start, Gareth Montgomerie took flight and I started searching for the keys to the hurt locker.
The next couple of laps were a case of deja vu as James Fraser-Moodie destroyed me on the climbs and I jumped back on his wheel at the bottom of the descent, it couldn't last for long however the elastic properly snapped at the end of the 4th lap (i think, it might have been the 3rd, 2nd or 1st), which coincided with my first proper "fail" on heartbreak hill. Strangely, I wasn't even that fussed as I was having so much fun riding the course that the inevitable, "blow up", when it came, was accepted along with more cramp that can possibly be good for you. Douglas Shearer then came past, had a quick giggle at my sorry state and disappeared on the final lap.
At the finish, I was exhausted but exhilarated and really enjoyed the race. A net 6th place won't rewrite history but I was happy to be enjoying the racing.
A trip to Falkirk's finest japanese restaurant provided more than enough calories (noodles and sapporo) for a thrash round Innerleithen on Monday before heading back to North Yorkshire.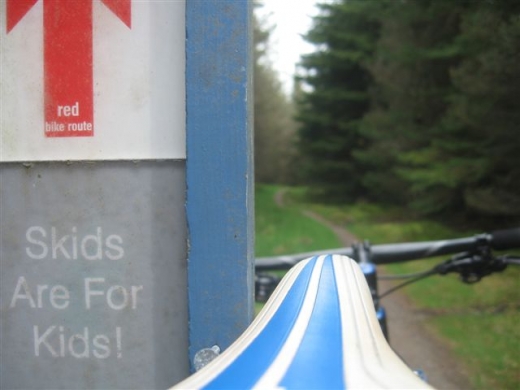 Bank Holiday done, legs wasted, new Giant 29er christened.
Niall
Thanks to Gateway Cycles
Xcracer.com
Accelerade
Exposure Lights
Mt Zoom
Special thanks to my local bike shop,
Moonglu
who dropped everything to help source parts on Friday morning.
Blogger Info:
--- Niall Frost is a XCRacer.com team rider
Read More By Niall
---
Disclaimer:
This blog post was written by a third party and their views do not necessarily reflect the views of XCRacer.com